Sept 2014: Annie and Steven Shears (of the Sunbeams Concert Troupe) perform at the NHS Annual Members Meeting at Rheged
Aug 2014: The Sunbeams Concert Troupe appear on TV as part of the Community Channel's 'Brilliant Britain' series
Aug 2014: Sunbeams Trio raise £1,700 by completing Total Warrior, in memory of Lily Goad. Money raised to go towards a room in her memory in the Sunbeams Music Centre
July 2014: Annie is asked to sing at Rory Stewart's Auld Acquaintance Cairn at Gretna in support of the Union. Guests include Ranulph Fiennes, Doug Scott and Alan Hinkes and Joanna Lumley
June 2014: 10 Novice Fell Walkers raise over £13,000 by walking 21 Cumbrian Peaks in 24 Hours (The Cumbrian Traverse). All in aid of Tom's Room in the Sunbeams Music Centre.
Feb 2014: High Sheriff for Cumbria 2013-2014, Mrs Diana Matthews awards Sunbeams with The High Sheriff's Shield for dedication to children and adults with disabilities across Cumbria.
July 2013: Sunbeams supporters run Coast to Coast in 24 hours to raise over £10,000 for Sunbeams.
June 2013: A Charity Dinner and Auction at LSO St Luke's in London hosted by Lord Jeffrey Archer raises over £100,000 for Sunbeams
Dec 2012: A Charity Lunch at the Burn How Hotel raises £112,651 for Sunbeams
Oct 2012: Blue Peter join the Sunbeams Team to launch their BBC Blue Peter Children in Need Appeal
Oct 2012: Sunbeams Music Trust broadcast on BBC Radio 4's 'Today' Programme,BBC reporter Tom Feilden reports on the work of Sunbeams Music For Life with Children in Need.
Oct 2012: Annie is asked to speak at a Big Lottery evidence seminar on best practice in using evidence to improve organisations, projects and outcomes June 2012: Sunbeams receives £83,267 from theArts Council towards the Centre build
May 2012: 'Music for Dignity' is trademarked as the umbrella name for our work with older people and Sunbeams are asked to be Dignity Champions for Cumbria, appearing at events and seminars over the next few years
March 2012: Sunbeams Music for Dignity is 1 of only 37 projects nationwide, to receive funding from The Big Lottery and Daily Mail as part of their Silver Dreams project, which pioneers ways of helping older people deal with life changing events.
March 2012: Sunbeams receive £126,265 from theBig Lottery Supporting Impact, Supporting Change Fund, launched to offset the effects of public funding cuts, in recognition of the importance of sustaining our work
Nov 2011: Sunbeams Music Trust broadcast on BBC Radio 3's 'In Tune' Programme for Children in Need
May 2011: A Celebrity Fundraiser and auction including a Picasso print donated by a London philanthropist at over £15,000 for Sunbeams
Feb 2011: The Copeland Community fund grants Sunbeams £29,606 to fund Music for Health and well-being in Copeland
Dec 2010: Community Music For Life and Music For Health in 50 projects every month, enhancing and improving the quality of life and social integration of more than 18,000 disabled people every year. In the year ending May 2010 the charity's services benefited the lives of 18,018 disadvantaged people through the delivery of Community Music Sessions in the North-West
July 2010: Sunbeams Concert Troupe perform at Salford University for the Vice-Chancellor's Summer Garden Party.
May 2010 : Rory Stewart, newly elected MP for Penrith and the Borders, agrees to be a Supportive Patron of Sunbeams.
Feb 2010: Sunbeams Music Festival at Tirril Village Hall attracted world-class artistes such as Chris Laurence Jazz Quartet, Locrian Ensemble, Europe's leading Guitar Quartet, Aquarelle and BBC Young Musicians of the Year percussionists O DUO.
Feb 2010: Grants Officer for Big Lottery videos Sunbeams staff for use as Evaluation Model of Excellence for Big Lottery Internal Monitoring in Birmingham.
Sept 2009: Annie Mawson and the Sunbeams Concert Troupe perform a lunchtime concert at St Martin-in-the-Field in London in front of 500 people – "social inclusion in triumph and in action" said Steven Broomhead, Chief Executive of NWDA.
May 2009 onwards: Sunbeams delivers innovative workshops with music, integrated with BSL signing, "Learn to Sing to Learn to Read" to up to 140 families and 520 family members in deprived wards throughout Cumbria.
Feb 2009: Sir Clive Booth , Chief Executive of the Big Lottery, applauded the innovative work of Sunbeams on BBC Radio 4 as an exemplar of excellence in the Arts.
Jan 2009: Sunbeams Music Trust was granted £464,498, the largest Big Lottery Family Learning Grant in the country, for innovative work for disadvantaged families with disabled children with severe and complex medical needs.
Nov 2008: Annie Mawson interviewed on BBC Radio 4's flagship 'TODAY' Programme, by Ed Stourton
Nov 2008: Web-Site receives 67,000 hits from the US. Annie appears on GMTV, "Breakfast" &"Good Morning".
July 2008: Lord Melvyn Bragg appointed as a Sunbeams Patron.
May 2008: Annie Mawson awarded Paul Harris Fellowship by Rotary International.
April 2008: Annie Mawson is featured on front cover and 5 page article of Cumbria Life.
Sept 2006: Sunbeams team, led by Annie Mawson appeared on BBC National TV – the Noel Edmonds Show, and Sunbeams was voted National Runner-Up as the Big Lottery Children's Champion 2006-2007.
May 2006 : Sunbeams Music Trust was voted The National Lottery Awards Champion Charity of the Year in North-West.
April 2006:Sunbeams Music Trust incorporated as a private company, limited by guarantee, No. 5794153.
Feb 2006: Sunbeams runs: 70 Music For Life Projects; The Concert Troupe perform 6 concerts each year; 20 learners are working towards recognised qualifications; Sunbeams organises 6 tours in partnership with Live Music Now! North West; Training is provided for graduate musicians; Annie Mawson delivers 49 presentations to multidisciplinary organisations p.a. Sunbeams now employs 4 members of Staff and 9 self-employed musicians.
Nov 2005: Sunbeams children's project is filmed for BBC Children In Need programme.
Nov 2005: Judy Cowburn is selected as a Regional Category Champion by the CSV Year of the Volunteers Awards Panel
July 2005: Annie Mawson and Michael Lawson Johnson invited to Garden Party at Buckingham Palace in recognition of their community work.
2005: Projects are developed with the introduction of British Sign Language support
Feb 2005: Annie Mawson, Michael Lawson Johnson, Jim Stafford and Justin Pearson are invited to Philadelphia to provide Sunbeams workshops and presentations. Annie sings in the Cathedral of St John the Divine in New York
Jan 2005:TROCN accept Sunbeams as members and approve the Sunbeams Training Programme. Nationally recognized qualifications will now be accessible to our Special Needs friends. Michael Lawson Johnson is invited to become Internal Verificator.
Nov 2004: As a result of requests Sunbeams pilots a Music for Life Training project funded by DEFRA.
Nov 2004: Annie Mawson is elected to the Royal Society of Musicians of Great Britain and is granted an Honorary Professorship for her services to Community Music.
Sept 2004: Annie Mawson is one of 12 bosses to reach the finals of Working Families/Lloyds TSB Best Boss competition.
May 2004: One of only 5 community and charity groups across the North West to benefit from an award from BT.
May 2004: Brian Scowcroft of Kingmoor Park becomes a new Patron of Sunbeams.
May 2004: Second Sunbeams Festival bringing "the best of the world and the best of Cumbrian talent" to communities.
Oct 2003: Sunbeams runs a pilot Festival opening at Rheged. Presentation from Annie Mawson with a performance by the Sunbeams Concert Troupe. Televised on Border TV.
May 2003: During the year to 31st May 20 world class concerts are given in rurally isolated areas by Justin Pearson (cellist) and his Locrian Ensemble.
Nov 2002: The Big Lottery award a grant totalling £300,000 to fund Sunbeams for a further 3 years.
2002: An additional 12 projects start, taking the total to 66.
May 2002: Justin Pearson becomes a Musical Patron and roving ambassador.
June 2001: Community Fund offer Grant of £264,399 enabling Sunbeams Music For Life in 54 venues every month.
2000: Annie Mawson is honoured with the Title of Cumbrian Woman of the Millennium Year, in recognition of her work
2000: Several VIPs accept invitations to become Patrons of Sunbeams all having been involved with the Charity. Included is Lord Lieutenant of Cumbria James Cropper and his wife Susan.
2000: The Northern Rotary ClubConference invites the Sunbeams Concert Troupe to perform to hundreds of delegates
2000: Patron Bishop Richard invites Sunbeams to stage a concert at the Carlisle Diocesan Conference. 26 Sunbeams people play for an audience of 400 at University of Lancaster. (The Sunbeams Concert Troupe is born).
2000 : Annie Mawson, is asked to play for H.H. Dalai Lama at the World Conference for Peace in St Ann's Cathedral and the City Hall in Belfast.
Aug 1998: Annie Mawson presents workshops about "The Power of Music to Heal" to 700 Bishops at Lambeth Conference. Attends Buckingham Palace Garden Party.
1995: ITV make a television documentary "Secret Heart" about Annie and her work at Sunbeams.
May 1995: Annie Mawson and the Dancing Drum, 7 girls with learning difficulties represent the North of England, playing their Celtic Harps at the Royal Festival Hall at the National Mencap Festival.
1992: Following many years of working with music with people with Special Needs, Annie Mawson founds Sunbeams to bring Music For Life to people with disabilities, and receives support and Patronage from Composer – Philip Glass.
Sunbeams Concert Troupe at Thwaites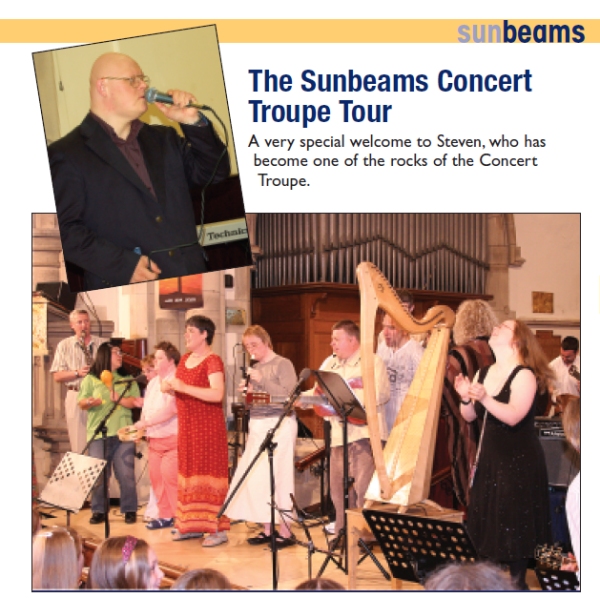 Thwaites Village Hall, Sunday November 30th 2008 at 2.30 pm
Sunbeams Concert Troupe at Millom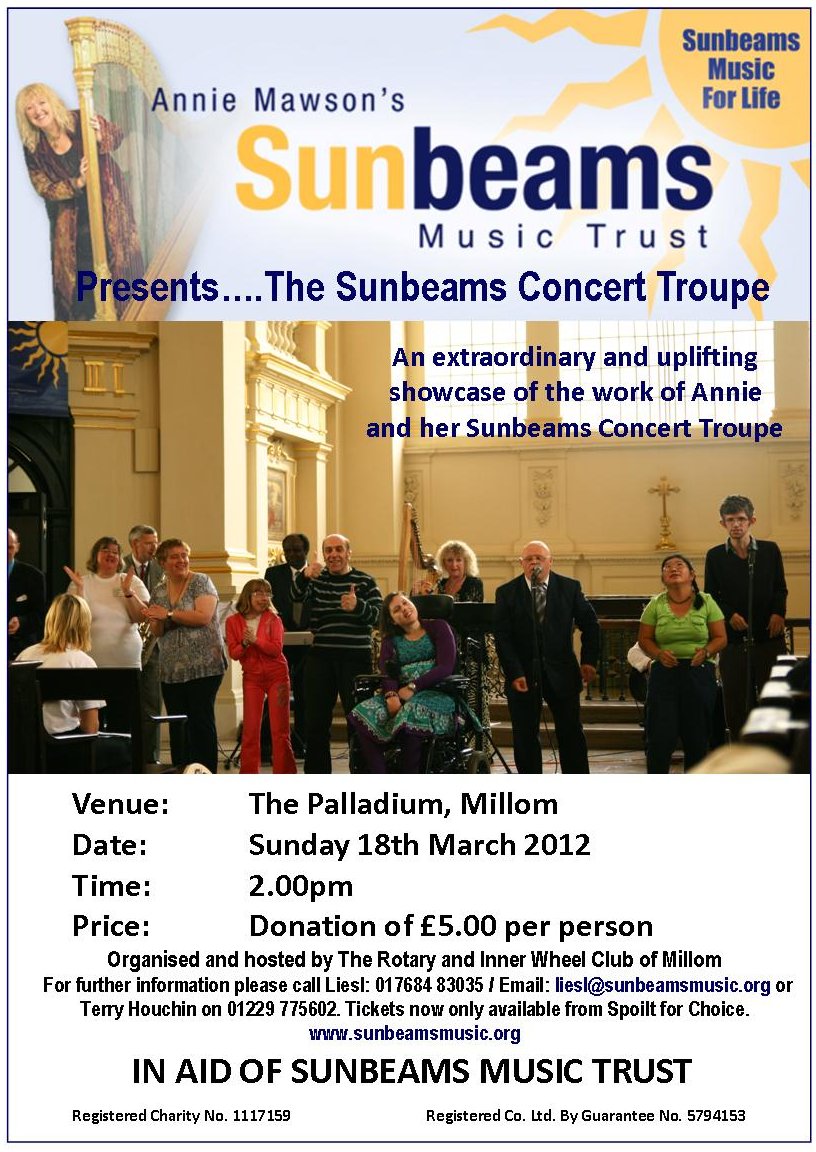 Floookburgh Band Last Night of the Proms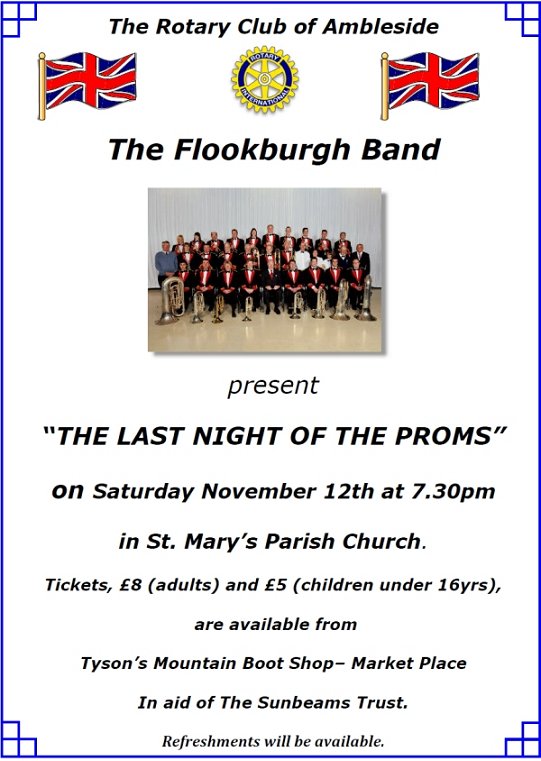 Sainsbury's Cookery Demonstration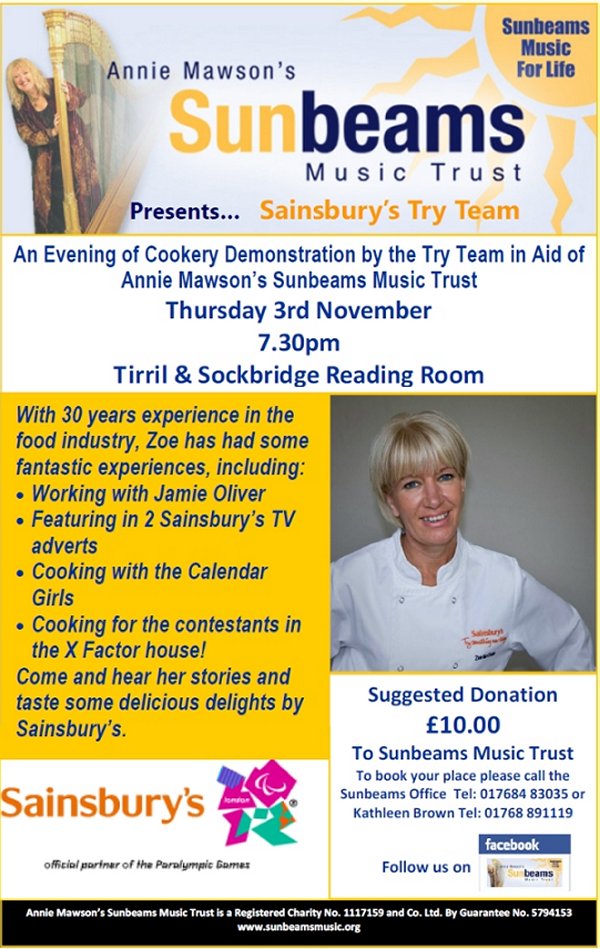 Bag Packing at Sainsbury's, Penrith
Dec 23rd 2011
Following on from our fantastic Cookery Demonstration in November, Penrith store manager, Patrick Wragg, arranged for Sunbeams to fund-raise through bag packing on one of the busiest shopping days of the year!
We were there all day on the Friday before Christmas and, despite being exhausted, we kept smiling, and packing! The final count of 16 buckets is just short of £700, so we are delighted! Thank you to Patrick, the Manager of Sainsbury's, for giving us this date to help raise money for the Sunbeams Centre Appeal.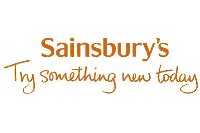 Patrick Relph and Jessica Hurst