In September 2016  we were delighted to move into  our stunning iconic building which has continued to win awards and accolades ever since: 15 in all!
Including the most prestigious "Architect of the Year for Structural Timber" to Will Mawson – CONGRATULATIONS WILL – we are so proud of you.
LIST OF AWARDS for SUNBEAMS MUSIC CENTRE, SUBMITTED BY OUR ARCHITECTS: MAWSONKERR  Architecture & Sustainability
Architects Journal Awards.  Winner Healthcare and Wellbeing Project of the Year
Buildings Awards. Small Project of the Year Finalist
Civic Trust 2018 Region Award Winner
Selwyn Goldsmith for Accessibility. Shortlisted Civic Trust Commendation
LABC 2017
-Shortlisted Northern Best Public Service building
-Shortlisted Northern Best Educational Building
-Shortlisted Northern Best Inclusive Building
– Northern Winner Small Commercial project of the year
-National Finalist Small Commercial project of the year
Offsite Awards Shortlisted Healthcare Project of the Year . Shortlisted Best Use of Timber Technology
Structural Timber 2017
– Shortlisted Healthcare Project of the year
-Shortlisted Contractor of the Year
-Winner Architect of the Year
This is such an achievement, showing our dream has come true – to provide a bespoke Centre which will be a sustainable legacy for disabled people of all ages, whose lives will be transformed by the power of music.
Special thanks to our main philanthropist – Sir Norman Stoller, whose largesse we are thrilled to acknowledge and to Sophie, the Countess of Wessex who officially opened the Centre on February 8th 2018, when the Centre was packed with Beneficiaries, young and old alike, Funders, Patrons, Trustees and wonderful Sunbeams supporters from all walks of life.
The futuristic building follows the natural contours of the land as it slopes upwards from west to east, appearing to gradually emerge from the landscape. The building almost reaches a crescendo, as would a piece of music – the Centre really is cutting-edge design. It is true testament to Will Mawson, our architect – and worthy of our wonderful beneficiaries who no longer have to tolerate inferior resources.
Annie Mawson receives MBE for Services to the Therapeutic use of
Community Music in Cumbria from HRH The Prince of Wales
March 2014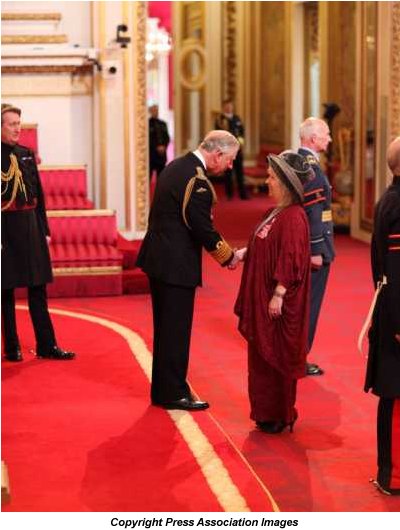 Annie was honoured to be presented with her MBE for Services to the Therapeutic use of Community Music in Cumbria by Prince Charles. He told her how pleased he was that she was from Cumbria, a place close to his heart.Annie started Sunbeams 21 years ago, and has worked hard to build the Charity to a point where it now delivers Community Music Sessions to 1,400 people every month with a wide range of special needs through Sunbeams Music for Life® and Music for Dignity® programmes.
The MBE is a wonderful recognition of the achievements of Annie and Sunbeams, and we are very proud of her!
Annie's niece Rebecca and nephew Will accompanied her and Michael to the Palace where they all enjoyed meeting the Yeomen of the Guard and the Gurkhas.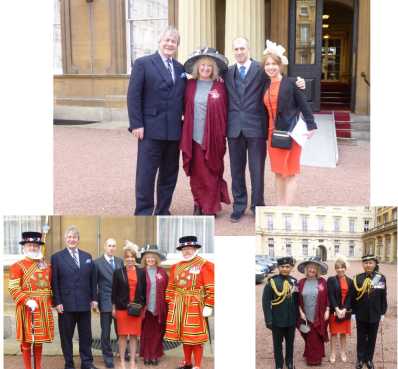 January 2014
We are very proud to say that Annie received an MBE for services to the Therapeutic use of Community Music in Cumbria in this year's Honours List. It is a wonderful achievement and testament to all her hard work and determination.
"I am really thrilled to receive this great honour, not just for myself but also because it represents such a wonderful testimony to the transformative effect that Sunbeams Therapeutic use of Community Music programmes have upon people with disabilities throughout Cumbria. I am overjoyed to receive the MBE in this special year – our 21st Anniversary, when we will start to build the Sunbeams Music Centre. I would like to thank the whole Sunbeams team who deliver Music Sessions to over 1,400 children and adults every month – many of them weekly – and also the Cumbrian communities for their unswerving and loyal support since 1992, as we strive to make a real difference to peoples' lives through the power of music."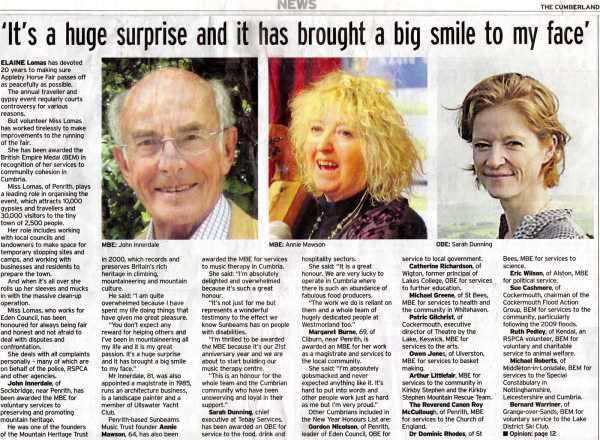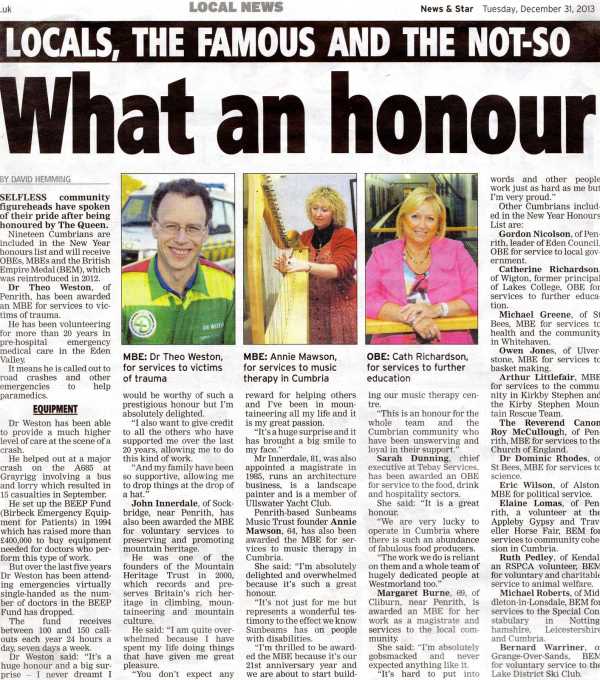 Cumbrian Charity Chief Executive, Annie Mawson, was a finalist in Britain's Best Boss 2006 competition
In June 2006 we were delighted to hear that Annie Mawson, Founder and Chief Executive of Sunbeams, had reached the finals of The Working Families/LLoyds TSB Best Boss competition. Working Families is the UK's leading work-life balance campaign organisation. It supports and gives a voice to working parents and carers, and helps employers create workplaces which encourage work-life balance for everyone .
Annie believes her charity would not survive unless it was "a happy workplace". She was nominated by Project Co-ordinator, Claire Watters, who described her "supportive, nurturing and inspiring" boss as someone who "makes Sunbeams a way of life and not just a job".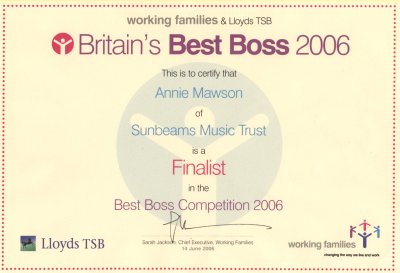 The certificate presented to Annie for reaching the final
Annie says, "Work-life balance policies are fundamental to the smooth running of the organisation. Because of the flexible way we work, we are able to surround ourselves with brilliant, well-integrated people, which is vital for us. Absenteeism and staff turnover are non-existent, sickness rates are very low and morale is always high."
Claire Green, Head of Employer Relations at Working Families, congratulated Annie on being a finalist in this year's Best Boss competition. She said, "This is a tremendous achievement as we had a record number of entries – all of a very high standard."
Annie Mawson's Sunbeams Music Trust volunteer – Mrs Judith Cowburn – North West Regional Winner
of the Year of the Volunteer Awards for Commitment
We were very proud when Judy Cowburn, one of our Sunbeams Volunteers, was short-listed as a North West Regional Champion for "Commitment" in the Year of the Volunteer Awards 2005. We were all thrilled that she enjoyed the celebration of the Year of the Volunteer at the Theatre Royal, Drury Lane in the heart of Covent Garden's theatreland.
A précis of the nomination follows, and illustrates the love and gratitiude which we all feel for Judy. Although Judy won this accolade in 2005, all the same attributes are more than relevant today – hence we refuse to banish Judy to the archives!
Judy is truly one of Sunbeam's outstanding volunteers. For the past six years she has shown tremendous dedication by faithfully undertaking those tedious tasks, so often overlooked but vital in the delivery of our Music For Life® sessions and our Public Concerts by the Sunbeams Concert Troupe. As our project Development and Evaluation Manager, Michael Lawson Johnson states,
"There are volunteers that need a volunteer to look after them, there are volunteers that don't necessarily turn up, and then there is Judy. In some ways, to say that she is dependable, reliable, intelligent, and attractive and also in her seventies, just doesn't cover all the attributes that she so readily shares with Sunbeams. Judy is simply a ray of pure white light in the lives of everybody who is fortunate enough to meet her. Sunbeams works with over 2,000 people with special needs every month. If we could clone Judy our task would be made even more joyous."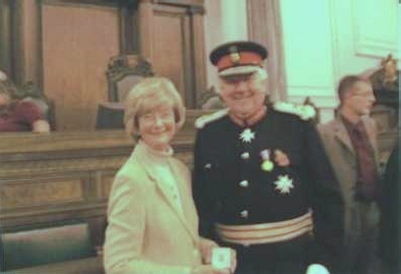 Judy Cowburn with the Lord Lieutenant of Lancashire at the Regional Category Champion award ceremony
Judy travels from Penwortham, south of Preston to Kendal each month – a round trip of 90 miles to support the Music For Life® sessions in an Out of School Club in Kendal, Cumbria for 30 children with disabilities. Each child is physically disabled, has severe learning difficulties or is a sibling of a child attending the group. Judy's involvement and understanding of the needs has been a key factor in the success of this project, initially a pilot project with a handful of children now a fully established and successful group with 30 children attending regularly.
Judy does not have a glamorous role, she is responsible for making tea and coffee, clearing up instruments, chairs and rubbish once sessions end; and most importantly, providing care to those most vulnerable of children who attend the sessions. The children need Judy's sensitive loving presence to encourage them to participate fully in the sessions. Yes we have experienced professional musicians – but they simply can't be with each child – one to one all the time. Judy assists wherever needed, she doesn't need to be told what to do; what a child needs; how to hold the hand of a nervous yet excited child; how to calm a child with Autism: she simply 'does it'. Judy never asks for any recognition: she simply cares for those who need her. The effect is to empower the children; to give them a sense of belonging, achievement and satisfaction aiding communication and reducing their isolation and frustration, and thus increasing their self esteem and wellbeing.
Judy also escorts the Sunbeams Concert Troupe, a group of 25 adults with a wide variety of Special Needs, when they perform in concerts throughout Cumbria. Judy travels over 45 miles just to meet up with the Troupe; escorts them on the coach; attends to their needs during the concerts; escorts them on their return journey – perhaps stopping for refreshments along they way (no mean feat in itself); then sees everyone safely home before driving the 45 miles back to Preston.
Judy never misses a concert, the Troupe love her. In addition to the mundane tasks such as escorting people to the toilet, seeing everyone is in place before the performance, Judy has to react instinctively as situations arise e.g. at a recent concert one young man with Autism, who plays the keyboard beautifully, stood up half way through the performance and started spelling out Countdown (the television programme he adores). He became obsessive about "what time is Countdown on" and began spelling out all the words he had come across on the programme. Judy spent the next 15 minutes quietly reassuring him until all was well once again. It takes extreme patience and dedication to volunteer for those situations which could arise at any moment.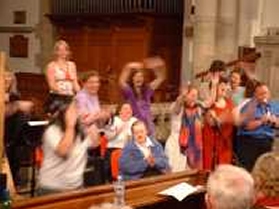 Sunbeams Concert Troupe
Through the Concerts, members of the Troupe have been able to participate fully in community life, removing barriers and reducing their isolation. Each member of the Troupe has some form of Special Need, overcoming personal difficulties to bring joy, laughter, understanding and hope to many people, thereby strengthening communities as people unite through their music. Judy works quietly in the background contributing to this aim.
As if that were not enough, Judy gladly attends our annual Training Week. For this she travels over 160 miles to a remote location, collecting one of our Trustees on the way as he is blind and cannot make the journey unaccompanied as there is no public transport. During the training she again offers unending support, supplying once again the most practical of support by helping with catering. Judy has never once asked for any financial recompense, providing refreshments herself to a standard well above the norm.
Judy's role within Sunbeams is invaluable; she fills the essential roles, with little public thanks, recognition or reward. She gives up much of her time to Sunbeams and can always be relied upon. The duties she undertakes may not be inspiring – but we feel that Judy's selfless devotion and commitment to Sunbeams is indeed an inspiration to others and we thoroughly recommend her for this award.
Sunbeams Music Trust Bravo! Award

Night of Success for Cumbria's Business Community
Two Cumbrian arts organisations helped business volunteers achieve prestigious awards at the BRAVO! Awards for Business and Culture at the Unity Theatre, Liverpool. The BRAVO! Awards are designed to recognise the best partnerships and provide a region-wide platform to promote the benefits of business support for the arts.
Eden Arts and Sunbeams Music Trust nominated their business volunteers and watched them walk away with coveted awards.
Supported by The Northwest Regional Development Agency (NWDA), the Awards for the first time brought together two sister organisations – Business in the Arts:North West and Arts & Business – to celebrate a diverse range of business and cultural partnerships.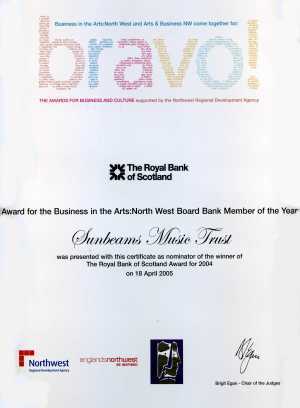 The Bravo! Award Certificat
The Royal Bank of Scotland Award for the Board Bank Member of the Year went to Susan Bennett, from Merseyside and a principal consultant at LCS Ltd for her work with Annie Mawson's Sunbeams Music Trust in Penrith.
Sunbeams was founded in 1992 to provide therapeutic music activity to people with special needs. Susan led the process of producing a long term strategy for the development of the organisation which has helped with the viability, stability, performance and sustainability of the Trust.
Annie Mawson, chief executive and founder of Sunbeams Music Trust said: "I am delighted that Susan's work with the Trust has been rewarded. Susan brought a vast professional experience to our organisation. Her clear, analytical mind enabled her to provide an unemotional business like approach in often emotive situations. I also believe her own hearing impairment and experience in teaching children with special needs helped her embrace all that Sunbeams represents.
"Throughout the board bank programme Susan provided professional solutions whilst maintaining an empathy with the vision of the charity. We work with some of the most vulnerable members of society and an understanding of specific issues affecting our beneficiaries has been invaluable."
Susan Bennett said: "I am thrilled with this award and have enjoyed taking part in tonight's event. Becoming a Trustee of Sunbeam's Music Trust has been a brilliant opportunity to not only apply my abilities but to be there to see results. For me the highlights have been not only the opportunity to 'put something back' into the voluntary sector but equally the pleasure and privilege of seeing the disabled members of the Sunbeam's Concert Troupe perform so joyously and without restraint, helped by dedicated and passionate people who share their love of music."
Viv Tyler, manager of Business in the Arts:North West said: "We have been overwhelmed by the diversity of entries to this year's awards and the kind of work that has developed out of these partnerships. Each year in the North West, businesses provide almost £4m worth of support of many kinds to arts organisations and individuals. In addition, more than 200 business managers and professionals lend their expertise and advice, mentor arts managers or join or continue to serve on the boards of cultural organisations. Our awards recognise and reward these achievements."
Paul Smith, Regional Director Arts & Business said: "Tonight has been a memorable occasion as we celebrate some excellent partnerships which clearly demonstrate the mutual benefits to be gained from arts and business working together. We hope that by combining with Business in the Arts:North West for this event we have been able to bring a new dimension to these awards."
Everyone at Sunbeams is thrilled with their success.
Annie Mawson is elected a Member of the Royal Society of Musicians
A highlight of the year was the Chief Executive Annie Mawson herself being elected as a Member of the Royal Society of Musicians of Great Britain with an honorary professorship, in recognition of her contribution to "Community Music" through the Music For Life® programme. Maggie Gibb, secretary to the Royal Society which was founded by Handel in 1738, quite rightly said that Annie was "A significant and inspiring woman". Her contribution to music is so refreshing and a wonderful testimony to what the Society stands for, reminding us of the true importance of music in our lives".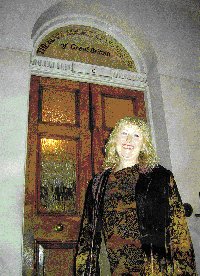 Annie outside the Royal Society of Musicians
Young Volunteer of the Year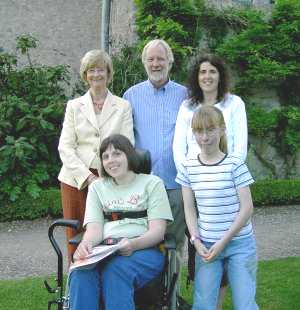 Judy Cowburn (left), Will Garnett and Janice Brooksbank watch with pride as Lorna Brooksbank and Siobhan Garnett celebrate their volunteer of the year awards at Levens Hall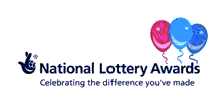 National Lottery Awards 2006 – 2007
Annie Mawson's Sunbeams Music Trust was voted The North West's favourite
National Lottery Awards Charity 2006 – 2007
and the runners up National Childrens Champion.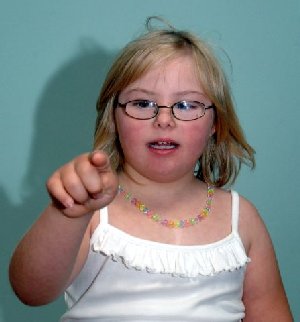 Thank you for all of your support!!
We were selected from hundreds of Lottery funded projects as the only Cumbrian finalist of the
National Lottery Awards 2006 – 2007.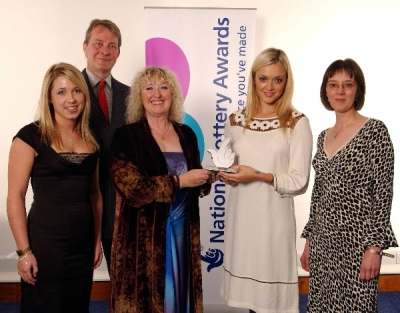 Pictured Left to Right
Rebecca Mawson (Director), Michael Lawson-Johnson (Evaluation and Development Officer),
Annie Mawson (Chief Executive and Founder), Fern Cotton (Presenter),
Ann Robb (Vice Chair – now retired)
Why were we selected as a finalist?
Because during the last five years:
We have brought the therapeutic use of community music to more than 17,000 adults and children, every year.
We have provided over 110 music workshops each month for people with special needs.
We have daily proof of the powerful effects of music upon the quality of life of our clients.
We have mentored professional musicians from Live music Now! in community music sessions.
Annie Mawson's Sunbeams Music Trust is at the forefront of encouraging disabled people to engage with the Arts and bringing disability arts to a wider audience.
The National Lottery Awards recognise the hard work and dedication of people who use Lottery funding to make a difference to communities across the UK. We are delighted to be a regional finalist in recognition of the difference we have made to the lives of disadvantaged individuals throughout Cumbria, Lancashire and Durham.
Music For Life® Awards Ceremony
Congratulations to the Music for Life® Students!
On Friday the 22nd of September 2006 Sunbeams Music Trust held an Awards ceremony for 21 artists who had gained their Music for Life® Programme Qualifications.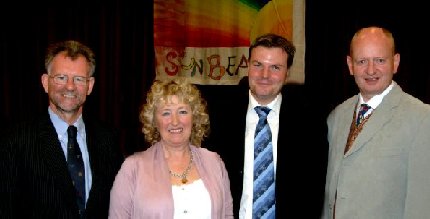 (From Left to Right) Tony Cunningham MP, Annie Mawson, Jamie Reed MP and Justin Pearson
The ceremony was held in the Main Hall at the Civic Hall, on The Square at Cleator Moor. The ceremony was opened by Annie Mawson, the Founder and Chief Executive of Sunbeams, with an introduction by Michael Lawson-Johnson, Manager of Evaluation and Development at Sunbeams. The well renowned Cello player Justin Pearson, who is a patron of Sunbeams, gave a presentation informing everyone of Sunbeams work.
The Awardees stunned the audience with their performances, integrating some of the work that they had done to gain the Music for Life® Programme Qualifications.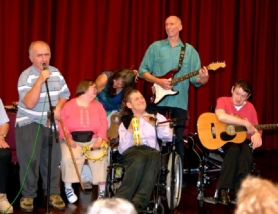 Four of the Awardees performing with Charles Daniels and Mary Kipling, the two tutors.
Tony Cunningham MP, who is also the patron of Maryport COSC and Jamie Reed MP presented the awards.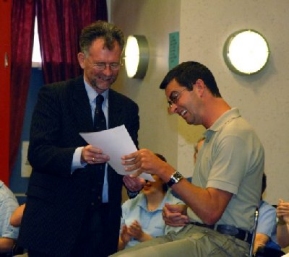 Tony Cunningham MP presenting Michael Thompson with his certificate.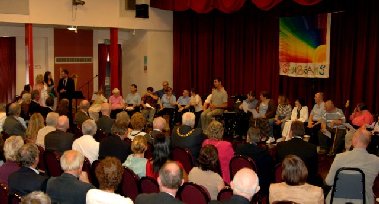 The ceremony represented a hugely significant landmark in the lives of 21 very brave and courageous people in West Cumbria, who have worked so hard to achieve their qualifications. The students were from Cleator Moor COSC (Copeland Occupational Social Club), Maryport COSC and Hensingham Adult Training Centre.
The programme was written by Sunbeams Music Trust and approved by The Open College Network as one of the most innovative and well-thought schemes of work. The candidates gained their qualifications with what the External Examiner described as "the best and highest quality evidence she has ever monitored for this level of learner".
Sponsorship was gained from DEFRA, CCC Neighbourhood Forum, CBC Neighbourhood Forum, ESF Global Grants, LSC Cumbria and Cumbria Community Foundation to enable the Music for Life® workshops and the ceremony to take place.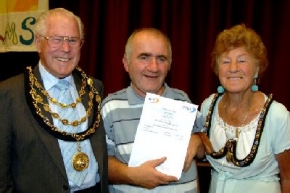 Barrow Mayor and Mayoress, Bill and Connie Crosthwaite with Jimmy Currie.
Approximately 120 people attended the ceremony. The ceremony was concluded with a cream tea.
Rotary Clubs Award to Annie
Paul Harris Fellowship
'Jim Stafford, our chairman would like to thank the Rotary Clubs of District 1190 – not only for their donations which totalled just over £10,000 towards our new Sunbeams Training Centre, but also for recognition of our Chief Executive and Founder, Annie Mawson in presenting her with the Paul Harris Fellowship. We are so proud of her, and we thank Ian Thomson, President of Rotary International and Tony Parrini, District Governor and print Tony's speech in full, from Friday 5th June 2009 Rotary of Carlisle South Charter Dinner.'
Friday 5th June 2009 Rotary of Carlisle South Charter Dinner
Mr President, Mr Mayor, RIBI President Ian, Guests and Fellow Rotarians,
I have been asked this evening to say a few words and to make a presentation to someone I consider to be a friend and a friend of Rotary.
This is not the first time we have tried to complete this pleasant task, but for some reason or other our target has gone off the radar – the last time being our District Conference at Leeds.
This person is a Cumbrian through and through and although there have been many opportunities to jump ship, as it were, this friend has truly put roots down permanently in Cumbrian soil – in a big way.
There aren't many people in this room this evening who have attended International Peace Conferences, met Cardinals, Bishops and Royalty. Equally, there aren't many here this evening who have been seen on Songs of Praise or been heard on Morning Worship Programmes on the radio.
Following a successful career as a special needs teacher, our subject established themselves in 1992 as a freelance musician and at the same time, moved by the experience of working with special needs people, decided to set up a Trust that specialised in the Therapeutic use of Music for the special needs community. Working tirelessly, and often against all odds, mostly on a voluntary basis until the arrival of a Community Fund award in 2001, here is a perfect example of a person dedicated to their work and to the service of a community of around 17,000 people. It has also been a pleasure as District Governor this year to have nominated this person's charity for special attention this year.
Latest news is that a much awaited Music Centre in Penrith now has Planning Permission and you can now Buy a Brick if you go to the Sunbeams Music Trust website.
Ladies and Gentlemen,
You're probably on the same wave length by now!
But I'm NOT here to make another cheque presentation!
The Award by Rotary International of a Paul Harris Fellowship is the highest award that Rotary can make in recognition of a Rotarian or member of the Community for their good deeds in making the world a better place. Annie Mawson has already been recognised by the community in various ways, but tonight it's Rotary's turn to add to those accolades.
Ladies and Gentlemen, would you please acknowledge Annie Mawson as I award her a Paul Harris Fellowship.
Sunbeams was one of only five community and charity groups across the North West of England to
benefit from an award of IT equipment from BT, who felt Sunbeams deserved the award for "helping to improve and unite the local community".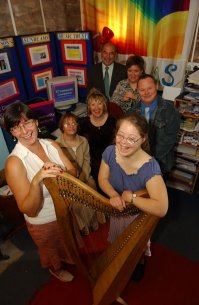 David Preston, BT's North West Regional Manager presents the new equipment to members of the Sunbeams Concert Troupe.