Annie Mawson's Sunbeams Music Trust, (Sunbeams), is a Charity delivering Community Music Therapy to disabled children and adults across Cumbria in the North West of England. Sunbeams provides Music For Life® and Music For Dignity® Projects in outreach venues, at the bespoke Sunbeams Music Centre, (just outside of Penrith), and online.  The Charity aims to improve quality of life and self-esteem through the creative power of music.
Our team of specialist Community Musicians deliver sessions in Care Homes; Day Centres; SEND & Special Schools; Hospices; Out-of-School Clubs and other Community Venues.
Services are available to children and adults of all ages with a wide variety of needs including physical disabilities and mental health problems; Alzheimer's and senile dementia; cerebral palsy; Autistic Spectrum Disorder; Down's Syndrome; sensory impairments; emotional and behavioural disturbance and profound multiple disabilities.
Sessions are based around live rather than pre-recorded music. Our musicians use a range of instruments and build sessions around singing and vocalisation; dance and movement and instrument playing often supported with sign language.
Most of our therapeutic services are provided free of charge to our beneficiaries, and are supported by grants and charitable donations. We believe in consistency and continuation, and prefer to maintain projects rather than offering 'one off' sessions as it is often only with time and dedication that real differences are made to people's health and wellbeing.
Sunbeams also facilitates community concerts by internationally acclaimed artistes in rural and isolated areas throughout the year, further enhancing the quality of the Arts in Cumbria.
For more information on what services are available in your area, please contact our Project Manager, Liesl on 01768 892909 or Email: liesl@sunbeamsmusic.org
"By tackling the serious challenges raised by social exclusion, deprivation, ill-health and inequality,
Sunbeams is 'reaching the unreachables' .
Annie Mawson, MBE on BBC Radio 4 Today Programme
What our beneficiaries say about Sunbeams…
We regularly seek feedback from our beneficiaries to ensure they are happy with our service provision. This is sometimes verbal, but as many of our Sunbeams cannot speak, body language, facial expression and sign language are often used to communicate their feelings. Here is some recent feedback from some of our beneficiaries in Barrow…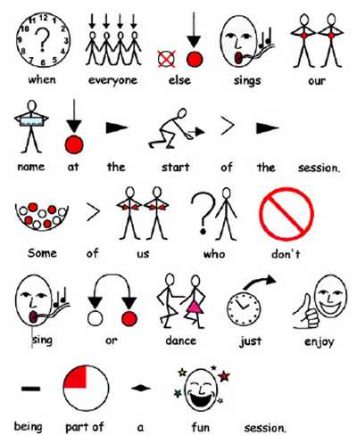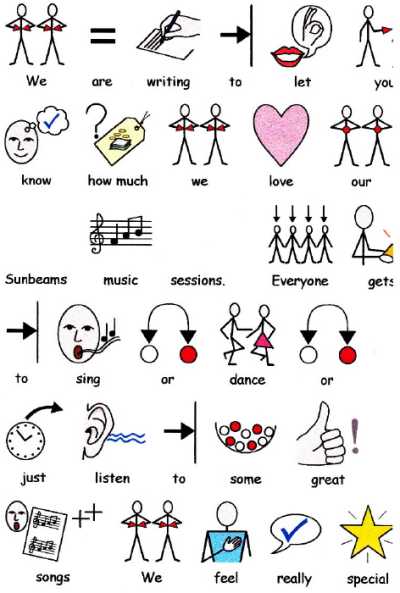 Those who are able, give regular feedback as part of our evaluation process for each
project. Here is some recent feedback from our sessions…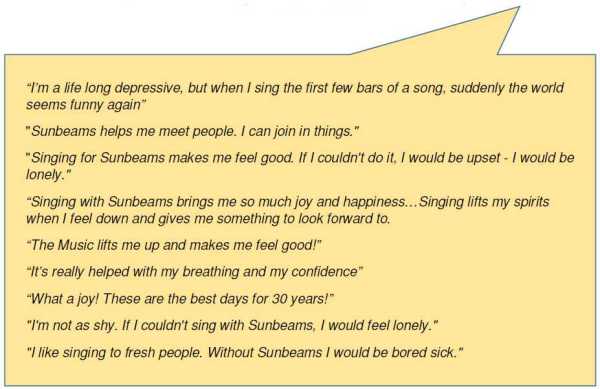 What family members and our partners say about Sunbeams…
"One of the many wonderful things Sunbeams does is to celebrate every step our children make.
Whether your child has contributed to a song, spoken a sentence, shown interest in an instrument, or
managed to sit through a session, we all understand that these are actually huge achievements; and
that is what creates the emotional atmosphere that radio 4 commented on when they visited us.
Sunbeams really is the perfect name as it is the place where every child shines."

Eden Mencap say, "I have no doubt that the children who took part in the music session over the holidays greatly benefited. The session had two key benefits: it was inclusive, allowing everyone to enjoy music with a sense of achievement, and it was fun! … The importance of music is often overlooked. The Sunbeams Trust has shown many people that they can enjoy music. If Annie's Team were no longer available it would leave a massive void and less happy faces in Cumbria".
Extracted from an evaluation questionnaire with permission
Family and Friends of South Lakes Music Group say, "The children who attend all gain immense pleasure and enjoyment from the sessions. A unique opportunity to shine in a fulfilled atmosphere….. Our children have no other facility to share and enjoy in music in such an informal and welcoming group".
Extracted from an evaluation questionnaire with permission

What the general public say about Sunbeams…
Many of our Sunbeams perform in public concerts such as the Sunbeams Concert Troupe and the Sunbeams Silver Liners. We focus on the ability within each person and this can elicit some strong responses in people when they see the transformative powers of music first hand…
"This is obviously making a huge difference to individual's lives."
"Such a valuable project"
"I am amazed at the courage of the participants. All smiles. Moved by the carers and the people who help with the music – such good people! A real sense of enjoyment by everyone"

What our Volunteers and Patrons say about Sunbeams…
Our patron Vicki Green wrote, "The concert was a wonderful mixture of enthusiasm and joy, and everyone was swept along with exhilaration at the delight of those taking part. It was not about pure, perfect music-making, although that was there, but about celebrating individual creativity and courage. We must never underestimate how much it takes to stand and perform and the years of encouragement and building of self-esteem that have led up to this performance. The concert was not only a celebration of the power of music to heal and renew, but also a wonderful opportunity to be rightly proud of each and everyone of its participants. This is the magic of Sunbeams, which enriches anyone who is lucky enough to share its vision."
Judy – one of our volunteers says, "I have had the immense pleasure and privilege of seeing The Sunbeams Music Trust at work at a number of their music workshops and at some of their concerts.
I cannot imagine a more dedicated, hard-working and caring group of people who each bring to the Trust exceptional skills, be that musically or otherwise.
The effect on the people in the workshops or concerts has to be seen to be believed. The whole atmosphere is one of absolute joy and a sharing of happiness – often in the face of tremendous disabilities.
I know that because of financial backing they have been able to go to many more venues than previously. These visits must mean as much, not only to the participants, but also to the parents and carers. They must see not only the happiness the sessions bring but also how they help to develop the confidence of the individuals and the ability to mix with and communicate with others.
The music brings a different dimension into so many people's lives. It is a joy to see, and it would be so sorely missed."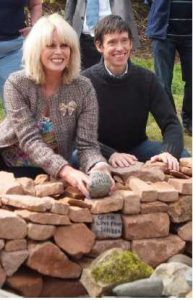 Rory Stewart MP said: "Annie and her staff have created a really incredible charity, with an impressive number of patrons and an energy that I find extremely infectious. But what is most special about Sunbeams is the work that they do; and the difference they make to so many lives"
This is just a sample of the feedback we have received. All our projects are evaluated and monitored so that we can provide the very best service to our beneficiaries.