Children from Sunbeams Music for Life® reach Number
One in the Charts on Children In Need Charity
Single with Gareth Malone and his All Star Choir!
October/November 2014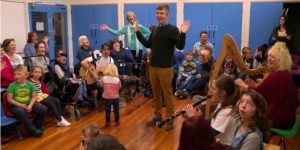 We were thrilled to welcome Choirmaster, singer and TV presenter Gareth Malone OBE to one of our Sunbeams Music for Life® sessions in October 2014. Gareth recorded audio snippets and filmed the children. Twenty Twenty Productions then incorporated their voices into the 2014 BBC Children In Need Charity Single which made it to Number One in the Official Charts!
A music video was also produced, again featuring all of our Sunbeams children, and much of the footage was shown on BBC One on a documentary about the making of the single by Gareth's All Star Celebrity Choir!
We were all so thrilled to have been involved with the project. The single has helped raise so much money for Children in Need!
Its combined download and streaming tally reached 120,000 by 16th November (keep downloading and buying it!!) and it was also the most physically purchased single during the Children In Need week!!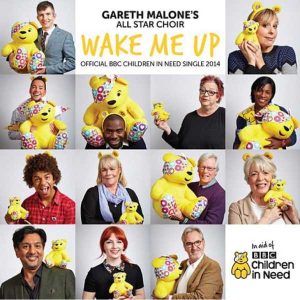 The session Gareth came to film is funded by Children In Need, but is just one of 45 projects which Sunbeams delivers to 1458 disabled and disadvantaged children and adults every month across Cumbria.
The aim of this session is to engage children with severe and complex medical needs together with their family members and carers through the Therapeutic use of Community Music workshops that are beneficial to their mental and physical wellbeing and which harness "The Power Of Music To Heal"
For this year's official 2014 BBC Children In Need Single, Gareth brought together an array of untrained voices from the world of television, sport and theatre to form his All Star Choir. Together they have recorded a version of the Avicii single Wake Me Up and he wanted to record clips of our children to incorporate into the track!
Gareth came with a crew from Twenty Twenty Productions and spent two hours with our lovely families recording snippets of audio and filming some lovely footage of the children engaging with our Community Musicians. They were all very moved by the children, especially Gareth, who found the whole experience "heart-warming"
On the single itself, you can hear our Oli introducing the track, lots of cheering from the children and our Alex saying "Thank you Children in Need" in the middle of the track!
We have also heard that the music video included lots of the film footage taken on the day, and both the audio and video will be included as part of a two part BBC One Documentary about the making of the single!
More info about the single can be found here: http://www.bbc.co.uk/programmes/profiles/3GcB6pTQ6QpNLFKFy0RC8JP/gareth-malone-forms-an-all-star-choir-for-the-official-bbc-children-in-need-single)
Sunbeams Music Trust help Gareth Malone create the Children In Need Charity Single: Wake Me Up.
To watch a video of it, click here
IMPORTANT DATES & INFO:
The BBC One Documentary was broadcast on Monday 3rd & Monday 10th November on BBC One from 9pm until 10pm. Sunbeams appeared on the second programme on the 10th November
The video and song was performed on Children In Need Appeal Night itself on Friday 14th November.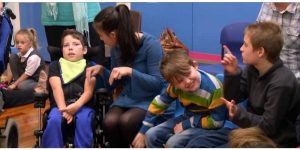 Photos from Westmorland Gazette Sunbeams Music Trust and are copyright.