Focus on Sunbeams Musicians: Alison Horn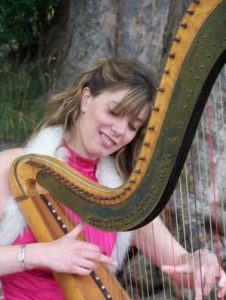 Alison Elizabeth Horn graduated from University of Leeds, Bretton Hall with a BA (Hons) Music Theatre in July 2005. Musically, the harp has been her great love since the age of eight, and she performs regularly on both the Clarsach and the Concert harp. Alison has provided music for functions in many venues including Durham Cathedral, Alnwick Castle Gardens and the Yorkshire Sculpture Park, and has recorded her first solo album for harp and voice, "Ripples". Sunbeams is proud to welcome such an accomplished dancer, choreographer and teacher to the team.
We are delighted to include Alison as one of our freelance musicians, especially as she conducted independent research at Leeds University for her degree thesis entitled "Community Music and Therapy". She concluded that the Sunbeams Music For Life® programme had impacted positively on everyone involved – be they "young, old, trainer, musician, doctor, colleague, patient or stranger".
Chief Executive Annie is particularly thrilled to be joined by another harpist as the beauty and elegance and healing sounds of the harp are legendary – "When Saul was seized with deep melancholia, David took an harp and played it and the melancholia departed".
How fitting that Alison worked with children at Eden Valley Hospice. The comments from the nurses speak for themselves….
"The experience has been valuable as it was great to have a session led by a happy, confident musical person who obviously loves children, and allows us to help the children participate and get as much enjoyment out of it as possible."
"The children have all reacted differently but all have been positive. We have children who are upset at the start but end up relaxed and happy to be in the session, we have children who smile and laugh all the way through, we have children who like to move about but always stay in the vicinity of the harp or instruments."
" The experience has been wonderful, Alison has a lovely manner with the children she has worked with and all the children (and staff!) have benefited from the sessions."
"The children have responded very positively to the sessions. The children appear to use the music to convey their feelings without the use of words in a safe setting where difficult or repressed feelings may be expressed."
" The benefits gained from Alison's music sessions have been as varied as the needs of the children. By offering support anbd acceptance, Alison has helped these youngsters to work towards emotional release and self-acceptance. The children appear to have developed a greater awareness of themselves, developing their confidence and their self-esteem."
Thank you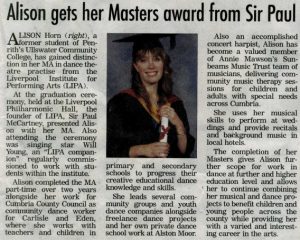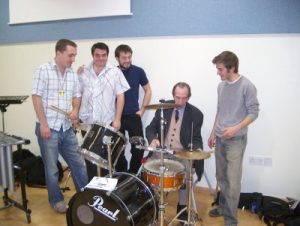 Gerald, from Yanwath Care Home, shows the lads from Batterie how to do it! Gerald used to run his own band and played all over the world. He wrote the accompanying song which he gave to Annie during one of her regular sessions at the Home. Gerald loved this photograph which Annie presented to him shortly before he died. He was thrilled that the Cumbrian heritage would live on.
Gerald's song "Bonny Lakeland"
1) How we sing songs about dear old Ireland,
And the scenery of Scotland, o , so grand,
But there's no place in the whole of our creation,
To compare with our 'Bonny Lakeland'.
Chorus
So let us sing of our own Bonny Counties,
With the scenery so wild and so grand,
For there's no place in the whole of our creation,
To compare with our 'Bonny Lakeland'
2) How the beauty of our own Bonny counties,
Will welcome you all with a smile.
You'll enjoy every mile of its beauty,
From Kendal right up to Carlisle,
And then right down that grand Eden valley
Where the Eden flows down to the sea,
And old Cross Fell stands out in all its glory,
Far out on that wild Irish Sea.
Chorus
So let us sing of our own Bonny Counties,
With the scenery so wild and so grand,
For there's no place in the whole of our creation,
To compare with our 'Bonny Lakeland'
3) To the west stand the Cumbrian mountains,
Their beauties no tongue can describe,
For there's Scaw Fell, Helvellyn and Saddle Back,
And a whole host of others beside.
Freda was the Shirley Bassey of the Sunbeams Concert Troupe, a truly natural performer with a bone-dry sense of humour. At Sunbeams we saw a side to Freda that you wouldn't know if you hadn't experienced her unique performances when she commanded the attention of hundreds of people. She always had to be the last act – she would have waited patiently for hours if necessary! And how she developed her act – which always included 'Wooden Heart', 'It's Now Or Never', and reaching a climax in her angelic pure voice with her 'Silent Night' (whatever the season!). I know all the Sunbeams Concert Troupe agree that our concerts will never be quite the same. She touched the lives of everyone she met, with her bravery, her courage, her style, her gentleness, her love. What a woman. She will be greatly missed by all of us and especially her public.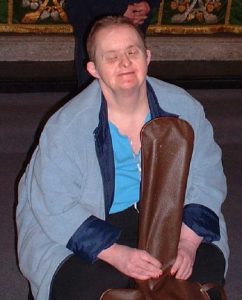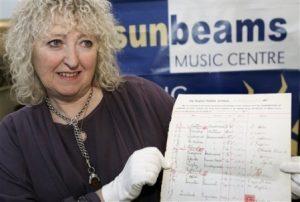 Annie Mawson displaying a ledger from 1911 containing the signature of E. Rigby. On November the 27th The Fame Bureau auctioned this historic document on behalf of Annie Mawson's Sunbeams Music Trust Charity. Showing the existence and only known signature of the scullery maid, Eleanor Rigby, the document was donated to the charity by Paul McCartney himself.
All the money raised from the auction will go towards building the Sunbeams Music Centre, which will provide a sustainable legacy for people with disabilities. At Sunbeams, we are dedicated to improving the quality of life of people of all ages with special needs through our Music For Life® programme. If you wish to support us any donations would be gratefully received, or please feel free to email us.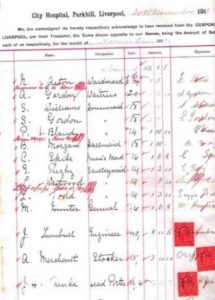 Three Men in a Boat
They said it couldn't be done!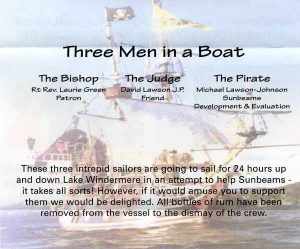 The Bishop the Judge and the Pirate.
Speaking as the Pirate, I would like it known that after 24 hours of sailing with a Bishop and a Judge, I am not only thoroughly spiritualised but also morally reprogrammed. As you can imagine, this puts the humble Pirate in somewhat of a dilemma. Is this the end of a promising career? NO is the answer to that because by the efforts of the intrepid three, we have raised over £3,000.
When I say we, I mean all of those who so generously enlisted their hard earned money in what must be one of the most cockamamie schemes to appear on a charity appeal.
We have already been asked if we would consider doing it again next year, well would we?
Through all the hardships, the lack of sleep, the rain, lack of wind and the noticeable lack of rum, we all thought it would make a good annual event. But we would like your feedback.
Thank you all for turning our purgatory into much needed funds for Sunbeams,
Thank you.
Michael Lawson – Johnson.
JT Atkinson Support Sunbeams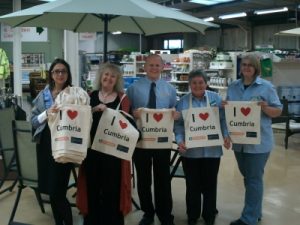 Left to right: Liesl McViety and Annie Mawson from Sunbeams, Gary Atkinson, June Reading and Julie Rudd of JT Atkinson
JT Atkinson continues to support the Sunbeams Music Trust in helping to raise funds to sustain Community Music Session Projects across the County of Cumbria for people with disabilities. The local store in Penrith has produced wonderful cotton shopping bags 'sporting' the Sunbeams logo, JT Atkinson's logo and 'I Love Cumbria '. The bags, now desired by many, are on sale at the store on Ullswater Road, Penrith. The cost of a bag is £2.99 with £1 for every bag sold donated to Sunbeams Music Trust! The firm have been incredibly generous: Gary and his dedicated team are warm, welcoming and are always willing to support those in need.
Thank you Gary and the team at JT Atkinson.
To visit JT Atkinson's website, click here
Annie and Michael Invited to Buckingham Palace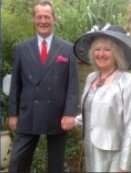 Our Chairman at that time, Jim Stafford, wrote – we were all very proud when Annie and Michael were invited to attend a Royal Garden Party given by HM The Queen at Buckingham Palace in July. The invitation came from a recommendation from the department for Culture, Media and Sport because of "their outstanding services to music in your community". They both thoroughly enjoyed their special day, and just wished the whole Sunbeams team could have shared it with them!
It is wonderful to have such national recognition and acknowledgement of our work. As we celebrate our 15th year since Annie founded Sunbeams, we are still providing over 100 Music For Life workshops every month to people of all ages with disabilities throughout the north of England. Our trained specialist musicians work with people in Hospital Wards, Hospices, Day Centres, Care Homes and Residential Special Schools, enhancing the quality of life and social integration of more than 15,000 people every year. Annie and Michael's enthusiasm, passion and drive never waiver from their mission to bring the healing power of music to people with a wide range of special needs, including cerebral palsy, autism, downs syndrome, profound multiple disabilities and all forms of dementia. As one of the managers at a Residential Home said… "Sunbeams come to us and give us much pleasure. Their work is sensitive and therapeutic. It is contact with the outside world and so it is most necessary – a lifeline*.