Below are links to recent stories in the news featuring Sunbeams. Just click each link to follow.
Please note all links were correct at time of posting. If you have problems using these sites, you should contact their webmaster to report the fault. We hold no responsibility for the content of these sites, and whilst we do our utmost to ensure that all our links take you to live sites, occasionally you may find that a link does not work. If this happens, please let us know.
Sunbeams at Wembley Arena
WOW!!! What an incredible evening Sunbeams had at Pudsey Rocks at Wembley Arena with our beautiful Connie and her amazing family! They are all truly inspiring. We all feel very privileged to be part of their lives and all the other wonderful families who come to Sunbeams Music Trust.
To see Connie and Joe's Story click here
Sunbeams Centre is officially opened by HRH The Countess of Wessex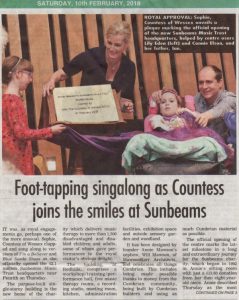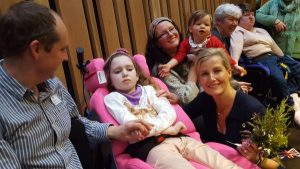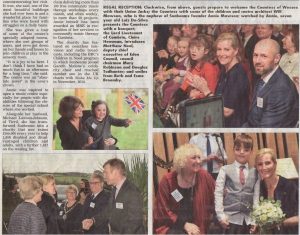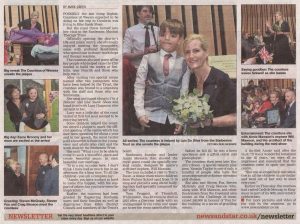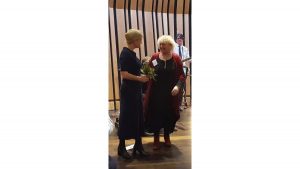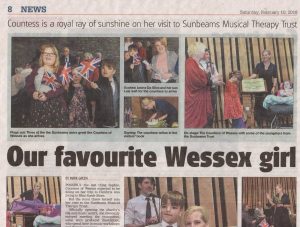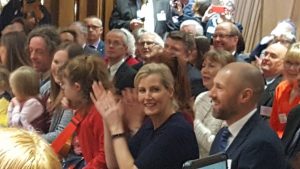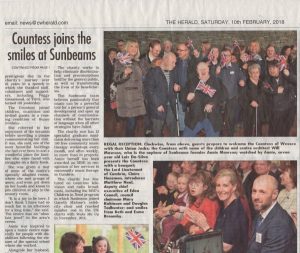 This year Sunbeams Music Trust helped Gareth Malone create 2014 Official Children In Need Charity Single.
Read more here:
Charity of the Month
Sunbeams is MP Rory Stewart's "Charity of the Month"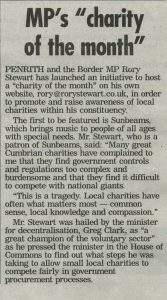 Carlisle Golf Club
'Carlisle Golf Club raises £3,037 for Sunbeams!!'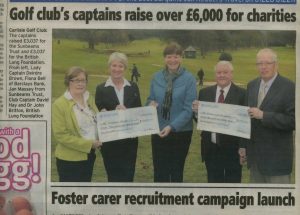 Blues Lotto Supports Sunbeams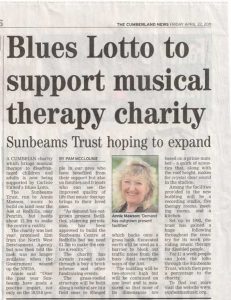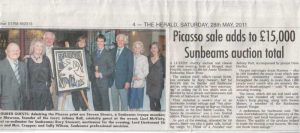 Penrith Lions Club Donation
(The Cumberland & Westmorland Herald, Saturday 21 st Jan 2012)
Annie was honoured to receive a cheque from the Penrith Lions Club, for £700.00, half of a total raised from Santa's Christmas sleigh ride around the streets of Penrith this Christmas.
Sunbeams are so very grateful for the continued support of Sunbeams by the community.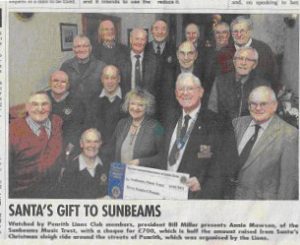 The Cumberland News Charitable Trust
The Cumberland News Charitable Trust Fund has donated £500 to Annie Mawson's Sunbeams Music Trust, which helps disadvantaged people improve their quality of life and self esteem through the creative freedom of music. There are over 70 Sunbeams projects running in the north of England. This money will be used to help towards the expenses of the Sunbeams Concert Troupe.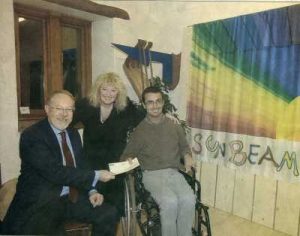 Pictured, from left, are Chris Bisco, Managing Director of Cumbrian Newspapers, Annie Mawson, founder and Chief Executive of the Sunbeams Music Trust, and Michael Thompson, elected leader of the Sunbeams Concert Troupe
The Cumberland & Westmorland Herald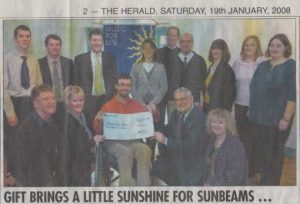 Michael Thompson, representing the Sunbeams Music For Life® Trust, receives a cheque for £250 from Lynda Nineham, Personal Assistant to CREA Executive Director Bob Clarke, with members of the CREA staff looking on. The amount was raised from the staff, based at Redhills, near Penrith, making a donation rather than sending gifts and cards to colleagues at Christmas. Also on the front row are Peter Mallyon, friend of the Trust, and Annie Mawson, Founder of Sunbeams (Saturday 19th January 2008).</div
Annie at Yanwath Care Home's 20th Anniversary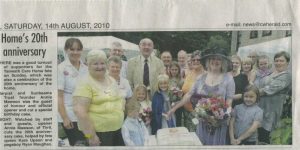 Guest of honour, Annie Mawson, cutting the cake at the 20th Anniversary of the Yanwath Care Home