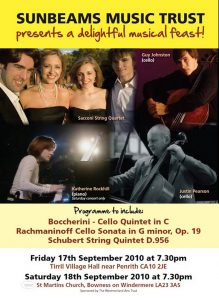 World Book Night at Tirril Village Hall
Monday, 23 April 2012
7.30pm until 10.00pm
On St George's Day, come celebrate World Book Night at Tirril Village Hall.
Annie will of course be playing her harp and singing, two poets will be there to read some of their work (see below) and there will also be a book swap so if you like, bring along a "good read" to exchange for another one.
As ever, a glass of something will be available (wine and soft drinks).
Free entry – donations welcome in aid of Sunbeams Music Trust
There will also be a free copy of a book for the 1st 24 lucky people who come along – to find out which one of the 25 World Book Night books that will be handed out this year, you'll have to come to the event!
Martin Malone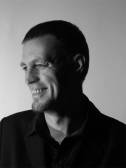 Martin Malone was born in West Hartlepool, County Durham, in 1963 and currently lives in Maulds Meaburn near Appleby in Cumbria.
He works as a Special Educational Needs teacher and has also worked as a sound engineer and as a guitarist / songwriter, releasing six albums under his own name and with the bands Innocents Abroad and Eskimø Chains.
Nowadays, he plays guitar with Simon Armitage for The Scaremongers, who released their debut album, Born In A Barn, in 2009.
Elsewhere, Martin has published studies of Thomas Hardy's short stories and the poetry of Alexander Pope and Charles Churchill.
A recent winner of the 2011 Straid and the 2011 Wivenhoe poetry prizes, Martin has also been a prize-winner in the Mirehouse and Yorkshire Open Poetry competitions.
Josephine Dickinson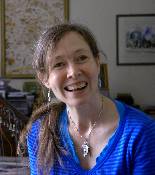 Josephine Dickinson was born in London in 1957. She lives in a remote corner of the high Pennines and keeps a small flock of sheep. She shares her home with a border collie called Jess and three cats named after three American Transcendentalists: Hawthorne, May and Waldo.
"I aspire to the qualities of the shepherdpoet, indeed it is my e-mail address. My sense of vocation as a poet emerged after I became profoundly deaf overnight at the age of six and I started reading and imitating poetry. I lost a physical sense but started seeing and hearing the miraculous. I read Classics at Oxford, then became a music teacher and composer after study with Michael Finnissy and Richard Barrett. Life events brought me to Alston."
"Dickinson has been deaf since childhood. More than her subject matter, her acute relationship to the physical sensation of language distinguishes these humble, deftly made poems." New York Times
Rickshaw Run on 11th April 2010
Team Members: Paul Seager, Gavin McKew and Justin McMahon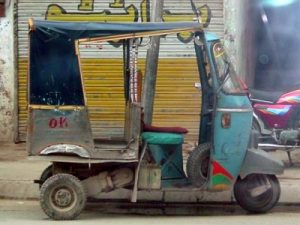 "3,000km on a rickshaw – you're In-dia Straits"
The Rickshaw Run is pretty simple. With no preparation and less luggage you fly to India and do your damndest to force an old 150cc rickshaw over 3000 kilometres of questionable terrain in around two weeks, on a vehicle that has a tendency to break down every 3 hours.
A group of friends Gavin McKew, 26, from Whitehaven, Paul Seager, 26, from Whitehaven & Justin McMahon, 28, from Leicester are travelling across India on the Rickshaw Run. Not such a big story, however travelling on a Rickshaw (7bh, 3 wheeled motorised golf cart with a top speed of 35mph) is a little bit more than temperamental.
Gavin says "I am a little nervous about the trip and at the same time, very excited. It will be a physically demanding 2 weeks but we will get to see India in the raw, and help people less fortunate than ourselves."
The friends with the team name "In-dia Straits" will start in Cochin southern India on the 28 th March 2010, taking their three wheeled treasure to Gantok, Sikkim . High up in the misty Himalayas lies the finish line, shoehorned into a tiny space between Buthan, Nepal and Tibet.
The reasoning behind this crazy idea is to raise money for three charities which are close to the lads' hearts including Annie Mawson's Sunbeams Music Trust – which is an award winning charity that provides Music For Life® to people with special needs throughout the North of England. They provide over 60 live music workshops per month to people who are disadvantaged. The service is available to children and adults with a wide variety of special needs including physical disabilities and mental health problems, Alzheimers and senile dementia, cerebral palsy, autism, Down's Syndrome, sensory impairments, emotional and behavioural disturbance and profound multiple disabilities. The most important achievements, however, are those that they share with their clients and musicians.
You can also donate online for Sunbeams at www.justgiving.com/sunindia
Meet the Team In-dia Straits…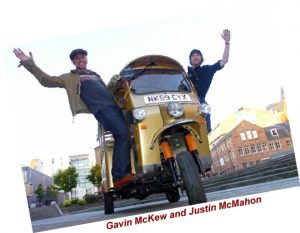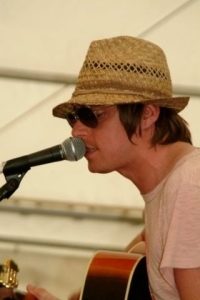 Correna Ford, from the Sunday Sun talks with the lads…
A BRAVE trio has signed up for a race across 3,000km of Indian jungle and desert in a three-wheeled rickshaw – even though none of them have ever even ridden one.
The three excited pals – Paul Seager, of Gosforth, Newcastle, Gavin McKew, 26, of Whitehaven, Cumbria, and Justin McMahon, 28, of Leicester – will endure searing hot temperatures and dangerous wildlife when they take part in the Rickshaw Run 2010.
They won't be given a map to guide them as they drive across the questionable terrain in a glorified golf-cart with a top speed of 35mph. And they won't even learn how to drive the contraption until the day before the start date in Cochin on March 28th, a fact which has left family and friends more than a little worried.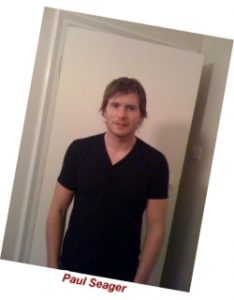 The three friends – who were given a taste of what they have let themselves in for when they tried out a tuk tuk owned by the Barn Asia restaurant in Newcastle – are hopeful they can raise thousands of pounds for charity on their journey. Paul, 26, a fire safety adviser at North Tyneside Hospital, said: "We've bought a road map and a guide to India and that's it. "You don't get a guide to help you, you just set off and they say 'see you in two weeks'. I've never used a rickshaw, let alone driven one. My mum's going mad. "She's a bit of a worrier and wonders what we've got ourselves into."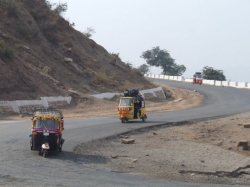 The In-dia Straits team will be among 63 other 150cc rickshaws, or tuk tuks, taking part in the charity race, with each participant paying £1,200 to cover entry, flights and insurance. That amount also covers the cost of the rickshaw, which is built by a team of engineers following designs sent in by each team. Paul has enlisted the help of a designer pal to create a blueprint for their rickshaw, which will include headlights, so they can do a lot of night driving when it is cooler, and a special roof they can sleep on.
He said: "When we get to India we have a driving course, and then we set off the next day… If anyone has a rickshaw we can practise in we'd be grateful. And there's plenty of room on it for businesses to put their logos if they'd like to sponsor us.''
"We're at the mercy of their mechanics basically, and an engine which we won't see until we're there.''
"I'm nervous – especially when you see how people have been injured in past races – but excited as well because we've got a fantastic chance to see India, off the beaten track.''
"We're plotting a route where we'll cut across to the west coast, through overgrown jungle onto Goa and Mumbai, then continue north through desert towards the Taj Mahal and end up at the Jaisalmer, which is nicknamed the golden city.
"We'll be taking it in turns to drive around nine or 10 hours each day and we'll have to watch out for wildlife, like mosquitoes, snakes, spiders and sacred cows, especially if we're sleeping rough on the roof!"
The lads hope to raise vast sums of cash for three charities, the India-based Mercy Corp, which will provide help for Jasodapur, a poor rural agricultural village, and FRANK Water Projects, which funds facilities that use the world's most effective water filtering process.
Closer to home, a portion of the cash raised will also go to Cumbria—based Annie Mawson's Sunbeams Music Trust, a charity that provides Music For Life® to people with special needs throughout the North of England.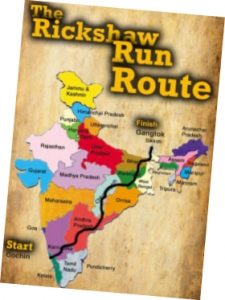 Founder of The Reflections Band, & Moody Blues Drummer Gordy Marshall Raises Money for Sunbeams!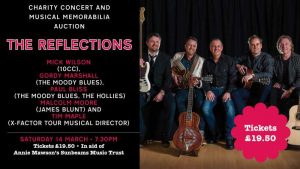 Five world-class musicians, singers and songwriters who, after years of touring and recording with some of the most iconic bands in the world, bring you a great show highlighting some of the best British Rock and Pop music of a generation.
Starring…
Gordy Marshall (The Moody Blues)
Mick Wilson (10CC)
Paul Bliss (The Moody Blues & The Hollies)
Malcolm Moore (James Blunt)
Tim Maple (X-Factor Tour Musical Director)
They will bring you hit after hit, with some of the greatest songs that formed the soundtrack to our lives.Whether it's the vastness of the O2 Arena, the grandeur of The Royal Albert Hall, the eminence of The Hollywood Bowl, or the intimacy of Ronnie Scott's, these guys have been there, done that, and bring their world of experience to this show. Having played with literally dozens of respected & distinguished artists over the years, this isn't just a covers band – these guys ARE the band that helped make these high-profile acts sound so good live and on record…
The evening will also include a fabulous auction of prizes including a
guitar signed by The Moody Blues , so be ready to bid!
Proceeds from the night will go towards the work of Sunbeams Music Trust, who provide therapeutic Community Music to disabled and disadvantaged people in Cumbria.
Seating and standing room. Bar available. Free parking
Sunbeams Music Trust
Rheged Discovery Centre
Redhills, Penrith, CA11 0DQ
More info about the band:
www.thereflectionsband.co.uk
Moody Blues Drummer Gordy completes "No Ego Mud Challenge" for Sunbeams!
October 2014
As well as agreeing to bring his band to Rheged in March 2015, Gordy has also supported Sunbeams through competing in the 'No Ego Mud Challenge'. In October 2014, he and his daughter completed a 10km course dotted with military style obstacles and raised a fantastic £503.60 for Sunbeams!
Thank you both!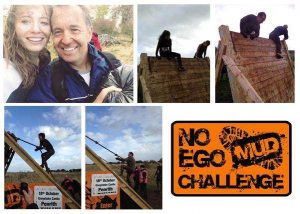 Annie sings for Patron Rory Stewart, Ranulph Fiennes and Joanna Lumley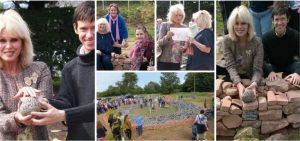 A recent trip to see MP Rory Stewart at his Auld Acquaintance Cairn in Gretna turned into an impromptu gig for Annie and Sally. Rory asked if they would entertain the workers with some music, and lead the crowds in renditions of Auld Lang Syne.
In July they played for explorer Sir Ranulph Fiennes OBE, who was joined by mountaineers Doug Scott OBE and Alan Hinkes OBE.
The team asked them to come back in August when Joanna Lumley came to lay her stone and they were more than happy to oblige and to lift the spirits of those assembled.
Sunbeams Trio Leap for Lily and raise £1,700!
August 2014
On 2nd August 2014, Sally, Liesl and Claire completed Total Warrior 2014 at Shap in the Lake District.
The event was a 10km race, interspersed with Military style obstacles.
The three completed it in memory of beautiful Lily Goad who enjoyed coming to Sunbeams Music Sessions. She is dearly missed and always in our thoughts.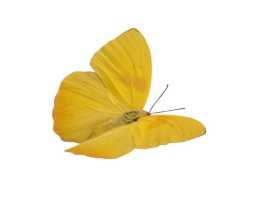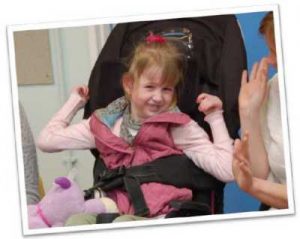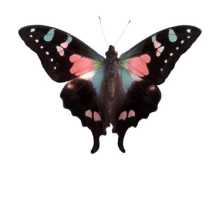 We want to dedicate a room in her memory in The Sunbeams Music Centre.
The Centre will help us continue to provide Community Music Sessions to children like Lily for years to come
We did it on just over 2 and a half (very muddy and wet) hours! A very respectable time.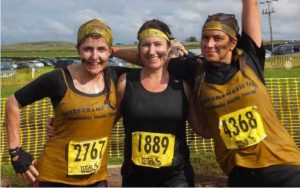 Report
When we woke up on the day of the event, our hearts sank. It had been raining all the previous day and through the night and we knew the course was going to be twice as hard because of it. And we were right!
We got ourselves to Shap, and because we were the last wave to attempt the course (thousands competed!) we knew it was going to be in a terrible state. We were greeted with the sight of hundreds of bedraggled Warriors who had already run the course, and we were reluctant to leave the warmth of our cars. But we forged on!
Finally we lined up in torrential rain and waited our turn, keeping each other's spirits up and trying to stay warm, and then something rather magical happened…
Just before we set of the rain stopped, the clouds began to lift and we completed most of the course in sunshine and at the finish line were presented with a stunning rainbow stretched out across the fells.
So we know that Lily was looking after us, making sure we got round in one piece.
The course began with us running up and down a steep hill before jumping over fire pits into a plunge pool. We went on to face…10 foot walls; swollen rivers; electrocution; log carrying; monkey bars over skips of ice water; balance beams; tunnels; cargo nets; barbed wire; and mud, mud and more mud!
It was amazing fun to do it as a team, in aid of Sunbeams and in Lily's memory.
She would have thought we were totally mad!
Because of some very generous giving by family and friends, we have raised £1,700 for Lily's Room in the Sunbeams Centre. Special mention goes to Lily's Auntie Sandra, the Goad family, the Forsyth family and all their friends and relations who raised an incredible £588.50, which smashed our original target.
We can't wait to get started on the Sunbeams Music Centre,
which is due to begin construction towards the end of 2014
Thank you so much to all who supported us!
Roll on next year!
Sally, Liesl & Claire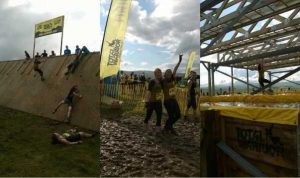 21st Birthday Celebration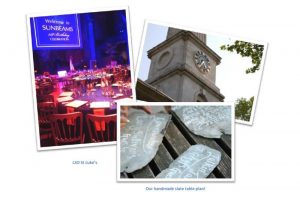 The Food
We enjoyed a wonderful drinks and canapé reception followed by a magnificent Lakeland Picnic Feast , where we were honoured to feature some of Cumbria's best producers. Cranstons Butchers provided us with their bestselling Ullswater Pie, Peter Gott cured 6 legs of prime Herdwick lamb, Thorny Moor Dairy & Appleby Creamery supplied our cheese selection and Hawkshead Relishes let us "embellish with relish" all the wonderful produce with their Westmorland and their Damson chutneys. And to finish the evening, The Toffee Shop, Penrith supplied some delicious after dinner sweets. Lakeland were generous in their sponsorship of the evening, which all went towards ensuring the event catering was second to none.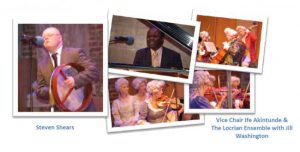 The Music
Musical entertainment on the night came from Sunbeams beneficiary and future 'Director of First Impressions' of the Sunbeams Centre, Steven Shears and Annie who sang Wonderful World to great applause. They were followed by Sunbeams Vice Chairman Ife Akintunde who had the crowd in tears with his rendition of The Greatest Love Of All.
Finally the wonderful Locrian Ensemble, led by their director Justin Pearson and joined by West End Star Jill Washington, brought the house down with a collection of songs delivered in stunning period costume.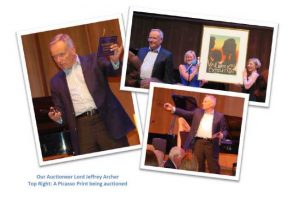 The Auction
Of course the main event of the evening was the amazing Charity Auction, hosted by Lord Jeffrey Archer. Famous for his talents as an auctioneer, Jeffrey had the place buzzing with auction fever. Flying in from another auction, he still made time to try our Lakeland Picnic and declared the pies and lamb to be incredible – he's already ordered a pie from Cranstons! Then , taking to the stage he whipped up the crowd and in his inimitable style, ensured our lots were fought over by the very generous audience. He was particularly moved by the videos of our beneficiaries like wonderful Oli, Yasmin, Bernie, and Tom. Here are a few words from his blog…
"Sunbeams Music Trust was set up to provide therapeutic music to those with special needs including physical disabilities and mental health problems. This was one of the happiest auctions I've ever attended, and Annie Mawson, the founder, and her workers from Cumbria are all that is good in a charity – no extra expenses, no hangers-on, everybody playing their part, from the pie man to the Lord Lieutenant. The auction raised £49,000 for a wonderfully worthwhile cause. Events like this serve to remind me how lucky I am to have two healthy children and a healthy grandson." – Lord Jeffrey Archer
THE AUCTION ALONE RAISED NEARLY £48,000

Guests also enjoyed a Silent Auction throughout the night which brought in a further £7000
And since the event we have had even more donations, plus of course the donations from the guests on the night for their seats so all in all we raised over £75,000
To give you an idea of what this means… it is 1½ therapy rooms in the new centre!
SO THANK YOU!
To all the sponsors, supporters and volunteers…to those who came on the night and to those who couldn't come, but still sent a donation. Special thanks to those people who donated or sourced items for the auction and to those who bought the items!!
And special thanks to those people who helped plan and deliver the event like Simon Rayner of Surgery Group, who was an invaluable advisor and also brought his team with him on the night to help ensure things ran smoothly. It is because of you all that the event was such a success .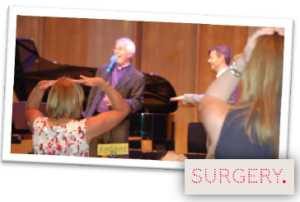 From Annie & The Sunbeams Team
2014 Fundraising Challenge
The Cumbrian Traverse Endurance Challenge
and Sunbeams Jamboree
In Aid of Tom's Room in The Sunbeams Centre
Friday 20th & Saturday 21st June 2014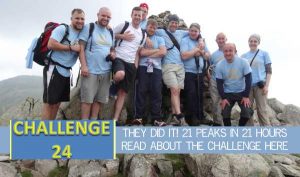 Annie Mawson's Sunbeams Music Trust are pleased to announce a new challenge by stalwart Sunbeams Supporters: The Challenge-24 Team.
On Friday 20th June 2014 the team will complete The Cumbrian Traverse:
A 35 mile route taking in 21 peaks in the Lake District and 12,000 feet of ascent which they plan to complete in 24 hours to raise money to build Tom's Room in the Sunbeams Music Centre .
The £2million Sunbeams Centre will be the new home for Sunbeams Music Trust and enable the Charity to support and develop 40+ projects for 1,400 disabled and disadvantaged children and adults throughout Cumbria and the North West. Download our Capital Campaign Brochure here .
Each of the rooms will be dedicated to one of our Sunbeams beneficiaries, and for this challenge the team want to contribute towards a room dedicated to Tom.
The team attempting this are no strangers to a challenge. In 2013 they completed a Coast to Coast Run in under 24 hours, which to date has raised nearly £10,000 for the Centre. And in 2012 some of the team completed a 170 mile cycle ride round 19 Lake District Lakes in one weekend, raising over £2000 for Sunbeams.
Tom is in his 20's. After graduating from St Bees School he went on a gap year during which time he contracted an infection in his brain. This has left him with multiple disabilities. Tom was a talented rugby player and cricketer, musician and active member of his school and community. The team really feel that this room should be dedicated to him.
Tom has recently been part of a Sunbeams Music for Dignity® project running in West Cumbria. The 18 month project saw Sunbeams work with disabled adults (including Tom) from Copeland Occupational & Social Centre (COSC) in Cleator Moor, and local Care Homes and Day Centres. Sunbeams Musicians gave weekly, fortnightly and monthly Music for Dignity® workshops at all the project venues, and worked with COSC members to form The Silver Liners Rock Group. They then toured round the Residential Care Homes and Day Centres to perform for elderly people, most of whom have dementia. The Silver Liners also took part in workshops and Masterclasses, and performed 4 big concerts at the Civic Hall in Cleator Moor to over 100 members of the public. In total we provided 394 therapeutic Community Music Sessions to 361 beneficiaries. The project raised confidence and self-esteem and allowed Tom to be part of a group where his abilities were allowed to shine through his drumming and singing.
The project was independently evaluated, the results of which showed that for every £1 of investment, the project delivered £8 worth of social value (SROI Case Study)
How you can help:
Donate: Online at http://www.justgiving.com/Sunbeams24 or send a cheque to the address below.
Annie Mawson's Sunbeams Music Trust
Sunbeams Music Centre
Stoller House
Redhills
Penrith
Cumbria
CA11 0DT
01768 92909
Running to the Sun
Coast to Coast Run In Aid of Sunbeams
At least it felt like that to the 6 gallant runners who undertook the mammoth task of running in 24 hours from Newcastle to Whitehaven to raise funds for Annie Mawson's Sunbeams Music.
On Friday 12 July Will Mawson, James Gilbert, Paul Seager, Steven Fox, Steven McGrady and Barrie Mackenzie set out on this record breaking attempt? That day was one of the hottest days of the year and the effort of running was looking impossible. But not to this band of brothers! The support vehicles manned by Rebecca Seager and Annie Mawson supplied unending water, refreshments, and wet towels.
Having battled all day in relentless heat and unending relays the lads finally arrived at Whitehaven Hospital completing the run in 19 hours. As far as we can find out this is a record and further more unique.
This stunning effort has to date raised over £7,000 and the donations are still coming in.
Any reasonable person would say that this heroic effort was enough, but not this team. They are already planning a run to collect a bottle of water from each of Cumbria's lakes. There is a very fine line between bravery and fool-hardiness. We wait and see!
Michael Lawson-Johnson
Director of Project Management and Evaluation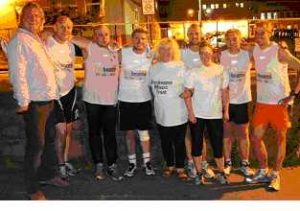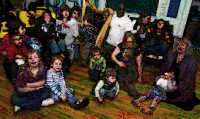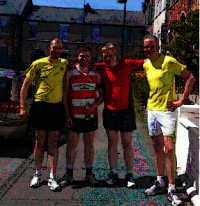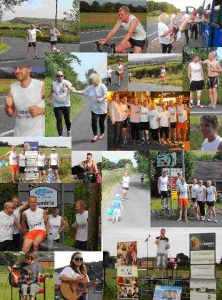 On Friday12th July, Architects Will Mawson and James Gilbert along with Paul Seager, Steven Fox, Steven McGrady and Barrie Mackenzie will attempt to run from North Shields to Whitehaven between Dawn and Dusk to raise money for Sunbeams Music Trust.
The distance is approximately 130 miles, between them none of the runners have ever completed a marathon distance but will each be doing so in relay to complete the challenge.
This is all being done for the Sunbeams Music Trust who bring the therapeutic use of
Community Music to people of all ages with a wide variety of special needs including Alzheimer's, cerebral palsy and Down's Syndrome. They currently deliver their unique therapy to around 1,800 people across the north of England in hospitals and any space available and are fund raising to build a purpose designed centre located on land generously donated overlooking the Lake District.
We would welcome any donations to help the work of Sunbeams Music Trust at the below Just Giving site:
On Saturday 13th July there was a fundraising event and party to celebrate the arrival of the 6 runners at Whitehaven Rugby Union Club, starting at 14.30. Come and enjoy the BBQ, live music, auction, raffle and star board – all for just £10 per person.
Thank you – Will, James, Paul, Steven, Steven & Barrie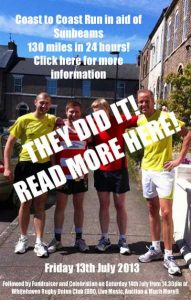 Four Golf Courses In One Day!
Fundraising Report 29th August 2012
On the 26 th July 2012, Tim, Martin and Olly from Atlantic Geomatics, played 4 different golf courses in one day to celebrate 10 years of their company and to raise awareness for Sunbeams. That's a whopping 72 holes (a full tournament) in less than 24 hours, all in aid of Sunbeams!
They teed off at Brampton at 5.15. From there they headed to Penrith followed by Keswick finishing the day at Windermere, where Annie, Michael and Sally joined them to see them through the last few holes.
They also ran a "Guess the total number of shots" competition with some fantastic prizes including Lunch for two at Sharrow Bay and Golf for four at Silloth Golf Club.
As it stands, they have raised an incredible £2423.94 including gift aid! Their mission is to get to £5000.00 so if you're impressed by their effort then you can donate online at http://www.justgiving.com/Atlantic-Geomatics
We are so grateful to have made such wonderful friends. Thank you!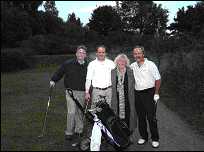 The golfers with Annie at Brampton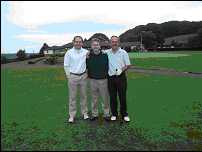 The men have an early start at Brampton!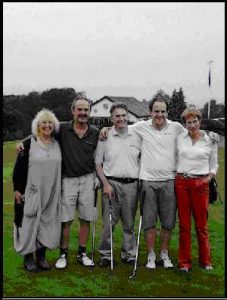 And a triumphant finish at Windermere!
(From left: Annie, Tim, Martin & Olly and Windermere Golf Club's Anne Frith)
Will Mawson & Steve Thompson's Lake District Challenge
In Aid of Annie Mawson's Sunbeams Music Trust
On 20th April 2012, Will and Steve, along with friend Tommy George set off on an epic 170 mile cycle ride round 19 Lake District Lakes, including Honister and Kirkstone pass, all in one weekend, to raise money for Sunbeams.
The Lakes they visited on the route were: Bassenthwaite, Blelham Tarn, Brothers Water, Buttermere, Coniston, Derwent Water, Elterwater, Crummock Water, Ennerdale, Esthwaite, Grasmere, Haweswater, Loughrigg Tarn, Loweswater, Rydal Water, Thirlmere, Ullswater, Wastwater and Windermere.
Support for their ride has been incredible, and to date has raised £1887.91!
If you would like to help us take the total to £2,000+, please follow the link to
Fundraising page address: http://www.justgiving.com/will-mawson
Huge thanks from all at Sunbeams!
The money raised will go towards Sunbeams projects throughout Cumbria.
Report by Will Mawson
"Some of the best ideas arrive by chance: in the back seat of a mini bus on the way back from a wedding, didn't seem like the ideal catalyst, but that's where Tommy, Stephen and I cooked up our fund raising plan.
It was simple. We would visit every lake in the Lake District by bike in a weekend. I think that was the beer talking. Having sobered up, the route seemed a little more complex than we first imagined and Wikipedia listed over 160 bodies of water. We narrowed the criteria to the principle bodies of water, picked a weekend and a start and finish point were decided.
Nervous energy and a glorious Cumbrian morning got us in the spirit at Wasdale where we started.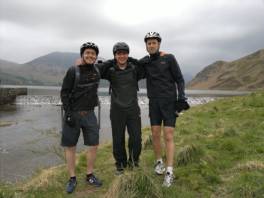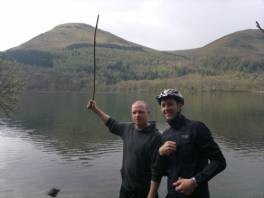 We found our rhythm hitting Ennerdale, Loweswater and Crummock before Lunch. A short ride to Buttermere to settle our stomachs and we started the long climb up Newlands Pass on the way to Bassenthwaite. At this point it became apparent that the Gods must have been shining on us and perhaps Sunbeams were with us physically as well as spiritually. The forecast had been dire but we had glorious weather and no wind for the remainder of the day finishing at Derwent Water for a well-earned curry.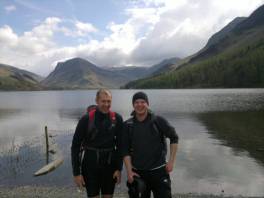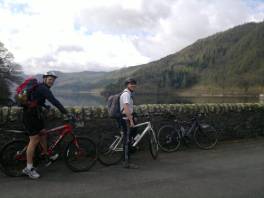 Day two took in a steep climb on the way out of Keswick on route to Thirlmere. Tommy's knee had given way at this point so we had to keep spirits high despite the rain lashing down as we climbed Dunmail Raise. The descent to Grasmere was intense as we almost overtook cars and at Rydal Water decided to get off the main roads. Beautiful scenery was becoming our staple diet and quite hard to take it all in but as the weather cleared at Elterwater we reflected on what an amazing part of the world we were in; onwards and upwards to Coniston, literally. From our lunch stop at Coniston it was a relatively, gentle ride past Esthwaite to the ferry at Windermere. On the boat across we toasted clocking up one hundred miles of travel but unfortunately hadn't realised our digs were four miles uphill out of Windermere. The welcome at Hagg End Farm was worth it though. A huge pork roast and sticky toffee pudding to boot took our minds off Kirkstone pass which was looming.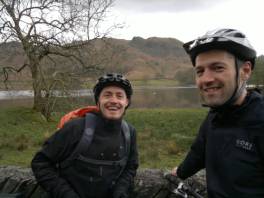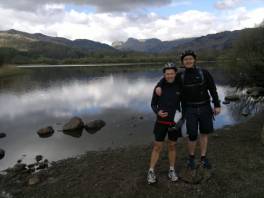 Another hearty fry up and we set off cross country to the biggest climb of our trip. Low gears and a steady pace and we made it to the amazing view from the top of Kirkstone. A rapid decent past Brothers Water and we could smell the finish line. We celebrated at Glenridding dipping toes into Ullswater. There was talk of a ferry to Pooley Bridge but we decided to do a victory lap of the lake, not realising it was around twelve miles away…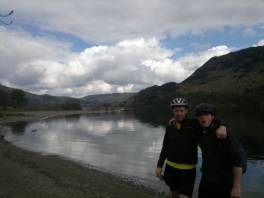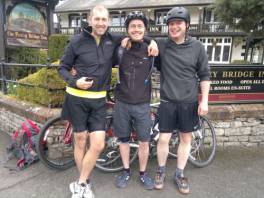 At Pooley Bridge, exhausted, we got off the bikes and purely by chance a car screeched to a halt and a tearful Annie appeared. What are the chances?
So around 150 miles of amazing and challenging scenery behind us and the goodwill of so many people before and during our trip: it was a great feeling to have completed the journey. Talk is already afoot of what to do next. For now though the padded shorts are on holiday."
Tirril is on the edge of the Lake District National Park, with a population of 397 souls, a sleepy village with no shop, a Garage but most importantly a Village Hall.
On the evening of the 25th of February 2011 the Sunbeams Music Festival started: not just an event you would associate with a small village in Cumbria but, of the standard and class of a major County event!
These are not empty words; these are not inflated claims, as with so many things, you need to know who the best are, and then you need to hear them!
The festival lasted for three nights, starting with the Chris Laurence Jazz Quartet, Chris Laurence, Frank Ricotti, Martin France, and John Parricelli. I have to say they sound like half an Italian dessert but in the words of Tina Turner they are "Simply the best".
On the evening of the 26th of February we had the honour to present the Locrian Ensemble of London, who delivered an evening of classical music second to none. Justin Pearson our Musical Patron and founder of the Locrians presented Rita Manning – Violin, Hannah Dawson – Violin and Morgan Gossff – viola. Due to the distinct diversity of the programme it was decided to divide the evening into three parts. This was not an old Dublin custom from whence Justin hails!
The standard was as ever sublime and Justin's enthusiastic empathy with the audience was at its zenith.
On the evening of the 27th of February our final Quartet of the Festival was Aquarelle, four guitarists as one! Michael Baker, Vasillis Bessas, Rory Russell and James Jervis. Aquarelle just get better and better. Their music taken from Europe and South America shows an empathy with their instruments born of practise and devotion. As with any art form perfection is hard won, Aquarelle are achieving it and have left room to develop and expand. A must now, but what about the future?
Thanks to the support of the wonderful people of Tirril , Sockbridge and surrounding area as well as the generosity of Pride in Penrith Lottery who donated £300 towards the running costs, the Festival was a huge success and we hope can be repeated next year.
Michael Lawson-Johnson
Annie Mawson's Sunbeams Music Trust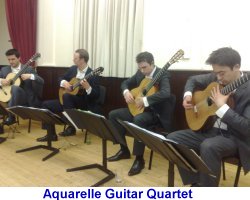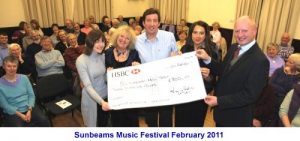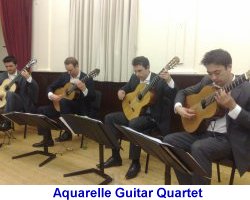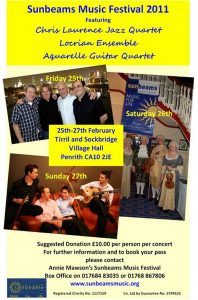 Celebrity Cheese and Wine Evening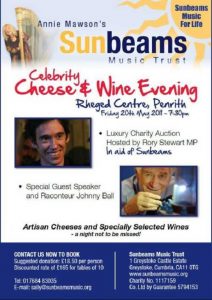 Charity Auction in Aid of Sunbeams
We have been overwhelmed by the generosity of donors and wish to thank everyone
who sourced or donated items for the auction.
Philip Hayton (Haytons Garage)
Glynn and Eunice Wrennal (Cottage at Bouth)
Richard & Craig (Cyclewise)
Jan Massey
Richard Eccles (Cumbria Life)
Joanne Wilson (Grasmere Gingerbread)
Rory Stewart MP
John Walker
Sir James and Lady Susan Cropper
Jonathan & Caroline (Cedar Manor)
Sonia Charters
Justin Pearson
The Mawson's of Bailey Ground
Karen, Frith & Dotty (the dog)
Tom Dent (Stoneybeck Inn)
Kathleen Brown
Tony Wolfe
Katie Snell & Jacinta Phelan (Oxo Tower)
Will Garnett
Manchester United Foundation
Will Mawson and Dan Kerr
Anthony & Christine Harrison (Cuckoo's Nest)
Margaret Brough & Joan Gate (Food & Company)
Barney Cunliffe (Gilpin Lodge)
Maria Whitehead (Hawkshead Relish Company)
Becca Mawson
Michael & Angela King
'Chop n Change' Carlisle
Mike Bevans (Linthwaite House)
Chris Knowles
Mike Mawson
Cliff Dadson
Mr & Mrs John Blake
David Parker
Nick Green
Dr Frederick Mulder (Philanthropist & Art Dealer)
Paul Seager
Eric Hope
Peter & Suzanne Greenhill
Ewan Wood (Carlisle United)
Philip Cranston
Geoff Monkman (Friendly Food & Drink Company)
We have a really exciting list, with something for everyone and every budget.
For the collector…
Limited edition Katherine Jenkins "Guernsey 2010 Tour" pen.
Set of collectors edition Winnie-the-Pooh postage stamps.
A signed copy of "The Little Sapling" by local writer, Gill Linder.
An un-opened reproduced copy of "The Roses" – a book of rose paintings by Pierre-Joseph Redoute.
Patrick Taylor's book "Gardens of Britain & Ireland".
Signed copies of Rory's Stewarts books – "The Places In Between" and "Occupational Hazards".
Charlie Connolly's book "And Did Those Feet" – 2000 years of British History.
For the fine dining experience…
"Not Afternoon Tea" for four people at Harvey Nichols Brasserie at the OXO Tower, London.
Two Course Meal for Two including a bottle of House Wine at the Stoneybeck Inn, Bowscar.
Afternoon Tea for Two at Linthwaite House Hotel, Windermere.
Dinner for Two at Cedar Manor Hotel, Windermere.
Lunch for Four including pre-lunch drinks and wine at Gilpin Lodge Hotel, Windermere.
For a quick getaway…
Two Nights at "The Lodge", Black Beck, Bouth – A spacious, but cosy self-catering cottage nestling alongside a tributary of the River Leven.
One Week at "The Cuckoo's Nest", Ambleside – A luxuriously furnished self-catering cottage, ideally situated within walking distance of shops, offering everything you'll need for an enjoyable lazy break.
Two Nights for Two at Hampsfell House Hotel, Grange-over-Sands – A hotel with nearly two acres of well stocked gardens, woodlands and fields, and breathtaking views, just a short five minute walk from town.
For the foodies…
A hamper from "Friendly Food & Drink", Staveley – Specialists in making hand-made preserves, chutneys, sauces and mustards.
A hamper from "Hawkshead Relish" – Makers of award winning traditional Preserves, Relishes, Pickles, Chutneys, Jams and Marmalades.
A hamper from "The Grasmere Gingerbread Shop" – Makers of Sarah Nelson's Original Celebrated Grasmere Gingerbread.
A voucher for a whole home-cured ham from Cranston's Butchers, Penrith.
Two places on a Cookery Demonstration day of your choice at "Food & Company", Mirehouse, Keswick.
6 bottles of Oyster Bay Sauvignon Blanc 2009 & 6 bottles of Oyster Bay Merlot 2009 from Sir James and Lady Susan Cropper.
A voucher to spend at "Mawson's of Bailey Ground" – Makers of a range of milk, butters, cheeses and ice-cream.
For the art lover…
Tailored recital for a birthday or special party by internationally renowned Harpist and Singer (and Sunbeams founder!) Annie Mawson.
A copy of "Picasso: The Art of The Poster" – All of the posters that Picasso created are depicted in this catalogue raisonne.
Swedish blue glass bowl hand made by Anna Ehrner for the Kosta Boda glass company – part of the world famous Orrefors Glass Company.
A mounted hand-painted porcelain tile by Keswick artist, Meg Blake.
Signed and mounted colour photograph by local outdoor & landscape photographer Nick Green.
And the pièce de résistance…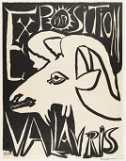 A very rare Limited Edition Picasso Print – Exposition Vallauris 1952 – Designed by Picasso and signed in the plate, this impression is printed in black on white paper, by Imprimerie Arnéra (Provenance available)
For the sports fans…
A framed photograph of Sunderland United "Stadium Of Light", signed by Niall Quinn.
A signed and framed Carlisle United shirt – Johnstone's Paint Trophy Winners.
A shirt from Manchester United, signed by John O'Shea.
A signed Newcastle Falcons shirt.
A signed Preston North End shirt.
A signed Blackpool F.C. Logo Football for the present season in the Premier Division.
A Ground Entry Match Ticket (2 Adults, 2 Children) for a Bradford Bulls home league game (2011 season, excludes Leeds matches).
For that special someone (or a treat for yourself!) …
A string of freshwater pearls with silver catch, and matching stud earrings made by Michael King, Wigton.
A solid silver seahorse ring from the Necessary Angel, Keswick.
A Hot Stone Back Massage at Holistic Health and Beauty by Sonia Charters in Dalston.
A Cut and Blow Dry plus manicure at "Chop n Change" in Carlisle.
A boxed manicure set from "The Colour Workshop".
Subscription to "Cumbria Life" magazine for one year.
Two VIP passes to the 'invitation only' opening of "Ghost – The Musical", opening at The Piccadilly Theatre in London's West End in July 2011 including a chance to meet the stars!
A Buffet Crampon B12 clarinet and selection of books – the perfect gift for a budding young musician.
For a taste of the great outdoors…
A day's fishing with Eric Hope of Hemmingways Fishing – an acknowledged expert.
Guest Full Membership for One Season (1st April – 31st Oct) for Egremont and District Anglers Club to allow one adult to fish all waters controlled by EDAC – including River Ehen for salmon & sea trout and Ennerdale Lake for wild brown trout.
A day's fishing on the River Liddle with David Parker.
A guided small group walk by Sunbeams Patron, and MP for Penrith and the Borders, Rory Stewart.
A choice of mountain bike experience days with Cyclewise – the UK's premier mountain bike training company.
A training session with a SARDA dog handler and Dotty (the dog!) – A memorable experience with a trained Mountain Rescue dog.
Two day's (HSE recognised) training with Nick Green (Vital Signs First Aid Training) – Invaluable for anyone who works outdoors.
Round of Golf for 4, donated by Silloth Golf Club
For the design conscious…
Have you ever wanted to start you own grand design? Offering the services of Mawson Kerr Architects, designers of the Sunbeams Music Centre, they will do feasibility and concept design work to turn your dream project into reality, up to and including RIBA stages A-C (Whether it be an airport, lambing shed or two up two down!)
One tonne of genuine Westmorland Roofing Slate including delivery!
And finally…
Drive away in style, with use of a brand new Peugeot RCZ for the weekend, including insurance – From Haytons Penrith.
50 litres of diesel, donated by Tony Markley of Carrs Coaches
And…to keep you all going, we are thrilled to be able to offer a really special cheese
selection, sponsored by the following artisan cheese makers…
THORNBY MOOR DAIRY – http://www.thornbymoordairy.co.uk
Located within the outbuildings of the old Crofton Hall Estate near Thursby, eight miles west of Carlisle, Thornby Moor Dairy is run by Carolyn and Leonie Fairbairn.
Carolyn began making cheeses in 1979, using milk from her own small herd of goats.
A practical approach – reading recipes, a lot of trial and plenty of error, common sense and perseverance, has resulted in the development of their unique range of cheeses.
Integrity, good flavour and nutritional value are what Thornby Moor dairy always strive to achieve in the cheeses they sell.
Their aim… 'to capture the essence of Cumbria in the flavours of our cheeses'.
APPLEBY CREAMERY – http://www.applebycreamery.com
Established in November 2007, Appleby Creamery made their first vat of hard cheese in May 2008 in a fully refurbished unit in the historic Westmorland market town of Appleby.
The team comprises Bob Parmley, Alan Mandle and Maurice Walton who together have over 70 years experience in the dairy industry.
They produce their own cheeses made from milk from very local herds along with goats and ewes milk both sourced in Cumbria.
MRS KIRKHAM'S LANCASHIRE CHEESE
Mrs Ruth Kirkham began making Lancashire Cheese at Beesley Farm over 30 years ago. This was a skill she had been taught by her own mother, making her the third generation of cheese maker in her family.
Hard work and persistence for quality has enabled the Kirkhams in the last 3 years to build a new state of the art milking parlour and Mrs Kirkham's Lancashire Cheese can now be found in most good deli' counters around the country or on the menu in your favourite restaurant.
Despite its success, it is still very much a family business. Apart from two full time members of staff, John Kirkham still milks the cows every day, while Ruth and son Graham still make the cheese between them, seven days a week.
THE LAKE DISTRICT CHEESE COMPANY – http://www.landofmilkandbunny.com/
With its roots firmly in the Lake District, the Lake District Cheese Company source the finest milk from local and surrounding farms, producing a deliciously moreish cheese that embodies all the values and the traditions of the Lake District.
CARTMEL CHEESES
Cumbria's newest cheese shop. Situated in the heart of Cartmel opposite the Priory entrance at No 1 Unsworth's Yard. The shop opened on the 5th of June 2010 with a select range of around 30 cheeses.
We are also delighted to be able to offer locally made chutney to accompany the cheeses,
generously donated by the following makers…
HAWKSHEAD RELISH – http://www.hawksheadrelish.com
The Hawkshead Relish Company are makers of award winning traditional Preserves, Relishes, Pickles, Chutneys, Jams and Marmalades. Based in the beautiful English Lake District, their cooking methods are traditional and they use no additives, colourings or artificial flavourings just really great fresh local ingredients wherever possible, such as the famous local British damsons to create their award winning range of relishes, pickles and preserves.
FRIENDLY FOOD AND DRINK – http://www.friendlyfoodanddrink.co.uk
Based at Mill Yard, Staveley, Friendly Food & Drink are specialists in making hand-made preserves, chutneys, sauces and mustards. Friendly Food and Drink make a range of products that are suitable for most diabetics and allergy sufferers, as they are made from fructose (fruit sugar), and they contain no glucose, no gluten, no dairy (except curds) and no nuts, just goodness. Cumbrian Delights main aim is to produce a range of products using ordinary sugar which have links to Cumbria/Lake District with all its varied culinary creations.
Bread for the evening is being kindly donated by the following baker….
GREENHALGH'S CRAFT BAKERY
A long established family business which has grown successfully over fifty years, Greenhalgh's is a craft bakery with a thriving chain of retail shops around the North West of England, as well as serving the wholesale sector nationwide and abroad.
And finally the butter from…
TOM FORESTER OF HOWBERRY FARM CARLISLE
To keep things local, butter will be coming from Tom Forester of Howberry Farm Carlisle, whose unsalted butter is regarded as one of the best in the country.
We are also proud to be sponsored by the following local businesses…
Dodd & Co, Chartered Accountants, Penrith
Queen's Head Inn, Tirril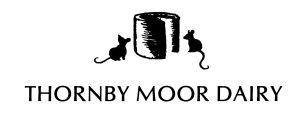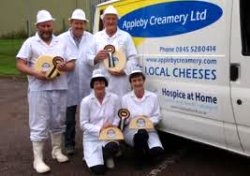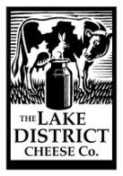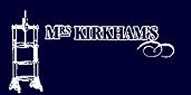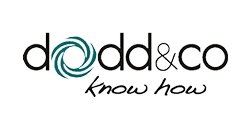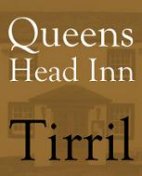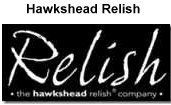 Cheese and Wine Evening Report
Celebrity Cheese & Wine Evening Raises Thousands for Sunbeams Music Trust!
Thank you to everyone who attended the Sunbeams Cheese & Wine Evening and Charity Auction last Friday at Rheged.
The auction raised an amazing £8000, and with additional donations and ticket sales, a fantastic £15,000 was raised for Sunbeams.
Special thanks go to Rory Stewart MP who did an absolutely fantastic job as our auctioneer and to guest speaker Johnny Ball, whose inimitable intellect and wit on maths, science and music is beyond compare.
Thanks also go to everyone who donated items for the auction, all the local producers who kept us going through the night with amazing cheeses, chutneys, bread, butter and wine, and of course to everyone who bought auction lots or made a donation to the Trust.
Keep your eyes peeled for a write up in the Cumberland and Westmorland Herald and photos in next months issue of Cumbria Life magazine.
In the meantime, here are a few pictures to give you a 'flavour' of the night…
Sally Wilson
Sunbeams Music Trust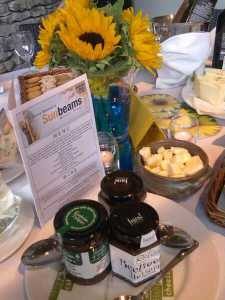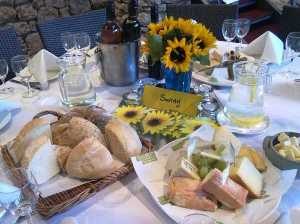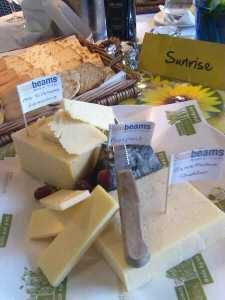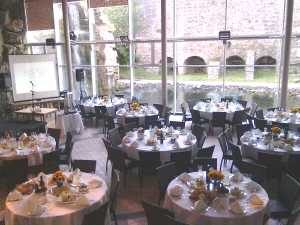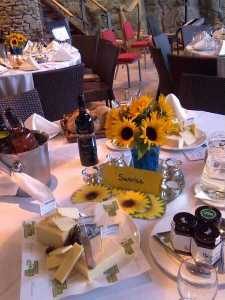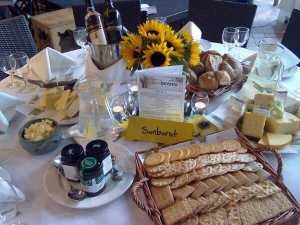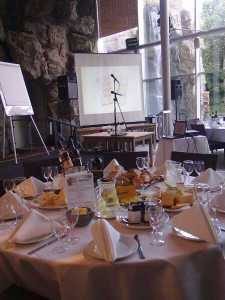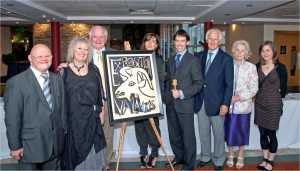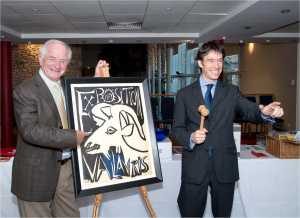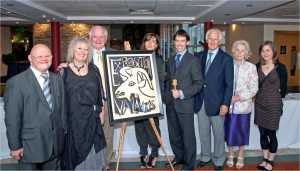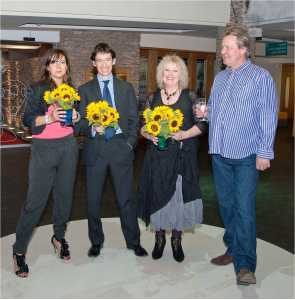 Great North Run for Sunbeams and St Johns Hospice on 20th September 2009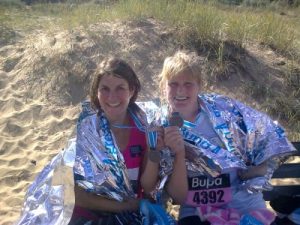 Julie Hayton (pictured right)
Julie Hayton had a fantastic day completing her run in just 2 hours, 9 min and 24 seconds . Julie wishes to express her thanks to all those who sponsored her. Congratulations to Julie and a big thank you from all at Sunbeams!
Did you know…Julie is Godmother to our wonderful Emily from our South Lakes Children's Workshops!
Napper Charity Bike Ride 2009
Napper Charity Bike Challenge
Newcastle to Edinburgh Cycle ride on 12th September 2009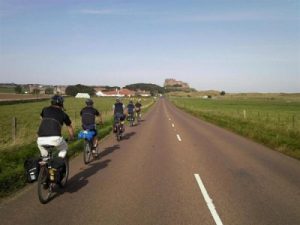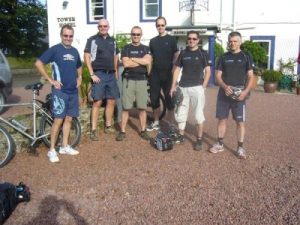 Napper Team: Mark Bowman, Tim Rainford, Alan Love, Dean Thody, Alan Rees, Graeme Dodd
Newcastle-based Napper Architects are 'going that extra mile' in September in a bid to raise money for a new Centre where Sunbeams can provide the Therapeutic use of Community Music for children and adults based in Cumbria .
Since winning planning approval for the Sunbeams Music Centre in Cumbria , the charity is now in the process of fundraising to finance the construction.
Sunbeams are looking to raise £1.5m to build the centre that was designed by the charity founder member's nephew, Will Mawson of Napper Architects. To contribute to the cause 'Team Napper' (Mark Bowman, Tim Rainford, Alan Love, Dean Thody, Alan Rees and Graeme Dodd) are cycling from Newcastle to Edinburgh on September 10-12th to raise money by cycling over 150 miles in three days.
Sunbeams is an award winning charity that provides Music For Life® to people with special needs throughout the North of England. They provide over 70 live music workshops per month to people who are disadvantaged.
The service is available to children and adults with a wide variety of special needs including physical disabilities and mental health problems, Alzheimers and senile dementia, cerebral palsy, autism, Down's Syndrome, sensory impairments, emotional and behavioural disturbance and profound multiple disabilities. More information on Sunbeams Music Trust is available on the just giving website below or at www.sunbeamsmusic.org.
To see further pictures and information please visit http://www.justgiving.com/napperarchitects
Sponsored Walk in Aid of Sunbeams
Queen Elizabeth Grammer School
December 2011
We were delighted that the students of Queen Elizabeth Grammer School Council chose Sunbeams as the charity to receive £2,500.00 of the amazing £9,000.00 raised by students on their recent Sponsored Walk.
Annie and Liesl met with QEGS senior students Geoffrey Larkin and Liam Ogden, who presented the £2500 cheque on behalf of all the students at the school. Huge thanks to all those involved. Community support like this is invaluable to keeping Sunbeams going.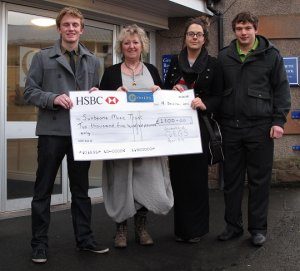 Geoffrey Larkin and Liam Ogden presenting the cheque to Annie and Liesl
Nov 2011
Sunbeams were one of the 243 charities who benefited from this years Kewsick to Barrow Charity Walk, which raised £235,000 overall, with Sunbeams receiving a cheque for £300.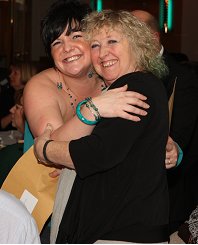 The total raised by the K2B since 1967 now stands at over £2.1 million, with hopes of reaching
£3 million before their 50th event in 2016
"Heavy showers and sunny spells were the order of the day for the 45 th Annual Keswick to Barrow Walk but the forecast did not discourage some 2,300 hardy walkers and runners that descended on Rough How Bridge to set a new record entry for the event (which was 2,295 in 2009). Once again there were participants from right across the UK including 20 Ministry of Defence teams, 20 BAE Systems Teams and over 50 non-Cumbrian teams. There were also 30 junior teams mainly from local schools that made up around 200 of the total competitors."
Jamie Reed's Sponsored Run
Music to our ears, Jamie!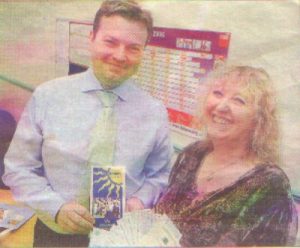 MP gets Trust's vote! Copeland MP Jamie Reed presented Annie Mawson from Sunbeams Music Trust with £850 towards their Music For Life® programme. Jamie ran in the Great North Run after securing sponsorship from family, colleagues and local businesses. He was impressed by the work of Annie and the Sunbeams Trust when he attended a presentation by them in Cleator Moor Civic Hall. The Trust works with people with severe learning and physical disabilities, teaching them to communicate through and with music, with the students gaining NVQ accreditation through the Open College Network. Here, Annie pops into Mr Reed's office at Westlakes to say thank you and to give him an open invite to any future presentations by the Trust.
Linda has 'Trip of a Lifetime' Trekking the Inca Trail for Sunbeams!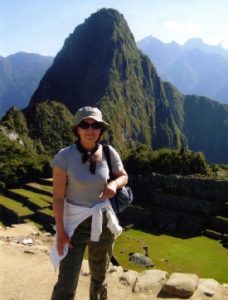 Linda Lunn at Machu Picchu, Friday 15th June, 2007.
Linda Lunn has played an active role in Annie Mawson's Sunbeams Music Trust for a number of years as a very dedicated Volunteer. Many of you will know her from Sunbeams Music For Life® Workshops.
Linda set off on her travels in Rio de Janeiro on the 9th of May – seeing parts of 6 countries – Brazil, Argentina, Uruguay, Chile, Bolivia and Peru!
Linda started the Inca Trail on June the 12th – enduring tough conditions, which were eased by the 'amazing porters' who set up camp ahead of the group ensuring there were hot bowls of water, after each day of trekking, to offer a well earned soak for their feet.
Rated amongst the ten best trekking routes on Earth due to its striking beauty, ancient Inca ruins and diverse ecological zones, the trail includes very different terrain from high desert plateau to tropical Andean rainforest.
Linda added, despite the tough ups and down of the trek, 'it was awesome! – It really has been the trip of a lifetime and the scenery on a scale of grandeur that has to be seen to be believed'.